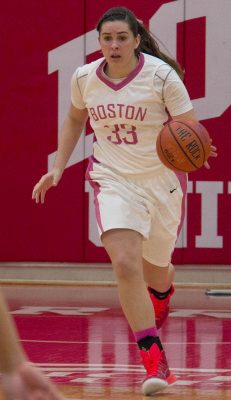 For senior forward Meghan Green, the end is near.
Alongside guards Sarah Hope and Courtney Latham, they are lone seniors leading the Boston University women's basketball team this season.
With the Terriers' season-opener at Northeastern University just days away, Green and her teammates are preparing to reverse a common trend from these past couple of campaigns. BU has opened against the Huskies for the past three years, and have all ended in losses.
While the Katy Steding-led Terriers have gone a combined 8-52 during her tenure, Green, BU's leading scorer last season at 9.6 points per game, is convinced that this preseason has been the best in her now four-year career.
"I think everyone's kind of on the same page," the Bedford, New Hampshire native said. "Everyone's really energetic and positive and we've been having some really successful practices that give us confidence. We've had two scrimmages, we've won both of them, [and] I think our practices are definitely the best in my four years here."
Both player and coach agreed on one thing: if the Terriers were going to improve, they needed to start on the defensive side of the ball.
BU's defense struggled containing opposing offenses last year, as it allowed teams to shoot 42.4 percent from the field 36 percent from three-point range.
Returning players who will be counted on to lead the defensive surge will be junior guard Corrine Williams and junior forward Kara Sheftic. Williams is coming off of a season in which she led the team in rebounds (4.9 per game) and was second in steals (30) and blocks (16).
Sheftic led all BU players with 25 blocks last season and was second behind Williams in rebounds.
"I think that [defense] was one of our struggles last year," Green said. "Every single practice we have a big defensive segment and we've been getting a whole lot better and we have a new system so I think that's going to be our biggest priority this season."
The Terriers entered the preseason having to fill a void left by graduated seniors Troi Melton and Clodagh Scannell.
In the offseason, though, BU successfully landed 2015's Maine State Gatorade Player of the Year in freshman forward Nia Irving as well as Vanessa Edgehill, a Class A All-New England player as a junior.
The freshmen duo's addition to the Terriers' roster will certainly help offensively, as Irving was a 1,000-point scorer and rebounder at Lawrence High School, while Edgehill averaged 13 points and seven assists per game at her alma mater, The Rivers School.
While Edgehill is still recovering from an ACL surgery during her senior year, Steding is impressed by her skill.
"She's a very high-IQ kid," Steding said. "She's a coach's daughter, so she really gets the game on the level that you want [a point guard to understand] it at. She's a lefty-threat from three, but she just has such a wisdom on the floor that you don't often see in a freshman so she's going to be a valuable asset."
Steding then noted Irving's rebounding prowess and how it will be a needed benefit for a BU team that was outrebounded by nearly five rebounds per game last year.
"Nia Irving brings us a presence on the boards, a tenacity and a fierceness inside," Steding said.
Steding noted, however, that the introduction of Irving into the lineup will have to wait, as the freshman will sit out the opening games following a stress reaction in her foot.
Once these two talented freshmen are cleared to play, they'll be looking to model their performances after this senior class.
Friday's opening contest is just one of many "last firsts" BU's senior class will witness, and while she's excited about this upcoming season, Green says the feeling is bittersweet knowing that this will be her last collegiate season with her classmates, with whom she's endured some growing pains.
"It's bittersweet because it's been a long road," Green said. "Especially since the past two seasons didn't go as planned, but I think this year we all feel a whole lot better and have a chance to do better. I'm excited and a little bit nervous, but more excited because I think we're doing to do great."