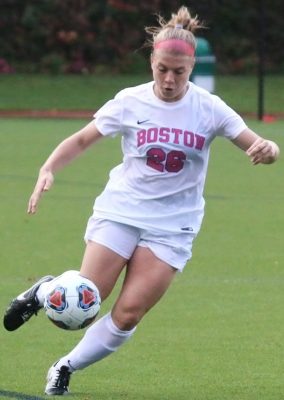 The Boston University women's soccer team started the 2016 season 0-10, but ended the regular season on a nine-game undefeated streak and eventually made it to the Patriot League Championship game Sunday.
In what once looked like a lost season, the Terriers (9-11-1, 8-1 Patriot League) found their form and turned their season into a success.
BU head coach Nancy Feldman attributed the turnaround to consistent progression.
"Great teams grow and develop as the season goes on," Feldman said. "The difference between losing and winning a game is small, so the coaches identified what we were short on. Over time, we continued making small improvements."
Through its first 10 games, BU was outscored 21-2. The defense struggled to contain opponents' best players, and the offense couldn't find the back of the net.
However, the Terriers turned their season around once they entered Patriot League play.
They lost their first in-conference game 2-0 at Bucknell University on Sept. 18, but then put it all together and dominated the rest of the conference schedule.
The Terriers then rode that momentum into the Patriot League Tournament, where they first defeated the United States Naval Academy in the semifinals.
BU's chance to win its fourth-straight Patriot League title slipped away against the Bison (16-1-2, 8-1 Patriot League) in the final, a 2-1 overtime defeat.
While the end result wasn't ideal, the Terriers turned their early-season woes into late-season success.
"The players were willing to work hard when we struggled," Feldman said. "They were coachable because they were positive we could fix it. They didn't feel sorry for themselves, and our job as coaches was to support them. They believed that if they kept after it, it would pay dividends, and it did."
Terriers say goodbye to solid graduating class
The BU seniors, which include goalkeeper Bridget Conway, defender Rachel Bloznalis, forward Erica Kosienski, defender Ellen Starnes and graduate student Rachel Blauner, depart from the team leaving behind a memorable legacy.
An important factor for the Terriers when they turned their season around was the senior class. They led their team in the winning direction and served as mentors for the younger players – something Feldman said she will miss.
"We will miss their positivity and work ethic," Feldman said. "They were able to channel their frustration over losing into positivity — they hit the right mark. They did a marvelous job of keeping and demanding high expectations while not having the younger players freak out."
Despite being a small group, the five graduating players had a significant impact. They won the Patriot League Tournament in each of their first three seasons, and appeared in the final in their senior year.
To go along with their collective success, several of the graduating players have enjoyed individual success.
Blauner was named to the All-Patriot League Second Team for the past two seasons, while Bloznalis grabbed first team honors in each of those years. Bloznalis capped her career by being named the Patriot League Defensive Player of the Year this past season.
Kosienski also took the conference by storm, being named to the All-Patriot League Second Team and Tournament Team this year.
Feldman said the departing Terriers' best attributes were their leadership skills.
"They were great leaders," Feldman said. "They demonstrated the culture of Boston University women's soccer. Demonstrating that culture is very important to how we've been able to carry on our tradition over the years."
Younger Terriers ready to take over reigns
While BU says goodbye to an unforgettable graduating class, its younger players are ready to lead.
"The space is open between now and the end of the spring for [the juniors] to show themselves as leaders," Feldman said. "They have an opportunity to take responsibility and set an example."
Goalkeeper Hannah Ciolek, defenders Hannah Wilcox and Alivya Wimmer and forward Jesse Shreck all had big impacts on the successful 2016 season, and look to take the next step in their senior seasons.
Ciolek split time with Conway in net, often starting the second half of games. She gained valuable experience, finishing the season with a 1.75 goals against average and a .672 save percentage.
On offense, Shreck had a breakout season. She started 19 of 21 games and chipped in three goals and four assists on the year.
However, Feldman said being a leader takes more than just experience.
"You don't start by yapping your mouth at everyone," Feldman said. "That's not leading. You have to demonstrate your example and intentions by modeling your behavior on and off the field. It's about showing the younger players what we want to accomplish."