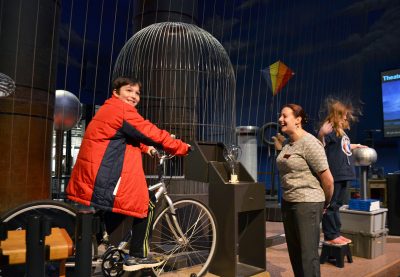 Children scurry in between different booths scattered around the Museum of Science, Boston, learning different concepts in the STEM — science, technology, engineering and math — fields. Among them, museum visitor Sorraia Alves followed her son, Zheydan, as he ran up to the geology booth, excitedly examining the rocks on the table. When the museum educator shined an ultraviolet light on the rocks, the rocks were illuminated in colors drastically different from their original hue. "Look, Mom!" Zheydan called. "It's magic!"
The Museum of Science held an event called "Women and Girls in STEM" Friday and Saturday. According to Karen Powers, a presentations coordinator at the Museum of Science, the target audience was not just young girls, though.
"Our main purpose is to inspire not just young girls, but their grown women, their brothers, their fathers, their caregivers, really everyone, to recognize that girls and women are valuable participants in STEM fields," Powers said. "So we're hoping to inspire these young girls to continue to pursue these studies, and also inspire their brothers to recognize that women are the same as men when it comes to these careers in their adult lives."
The event hosted several female scientists from the Boston area to serve as guest educators. Powers said the guest educators and museum visitors alike showed visible enjoyment at the event.
"As I have been wandering around both Friday and Saturday, [I've been] seeing the interactions between our guests [educators] and our museum visitors and the light bulbs that have been going on on both sides," Powers said. "The excitement that these women that are visiting the museum to the event as well as the impact they appear to be having on our visitors is just phenomenal."
One of the guest educators, Helen Jones, a senior scientist at AECOM who specializes in geochemistry, ran the geology booth with a member of the museum staff. In her experience as a geochemist, she said she has found very few women interested in the field. She said their absence may be a fear of science itself.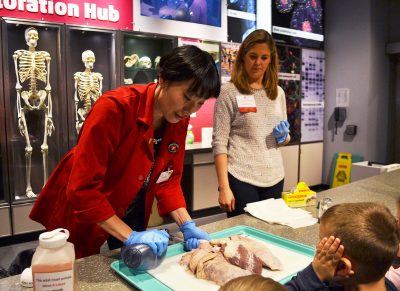 "I worry that more girls are maybe afraid to get into these sorts of careers because they don't see other women doing it," Jones said. "People just need a little extra support and encouragement. I think that boys are more likely to see men doing it, and girls, at least back then, weren't seeing very many women. My first job, I was the only female scientist in my entire office, which seems crazy, and that was in 2006. Now, in my office here, there's probably 50-50 of men and women."
Alves said in spite of their fears, it is still important for women to apply themselves in STEM-related fields.
"I think [women] are like anybody else; we are an important part of what happens in the day-to-day in our society," Alves said. "We have opinions. We're professionals with the right to be scientists, and we should be a part of and involved with the process … I don't think it's a matter of should a woman be involved; I think it's a must. We have to. We're part of this society."
Powers said it is easy for women to fulfill this duty to be involved in STEM, noting that there are only two key qualities that a person must have to be considered a scientist.
"I always like to tell visitors, whether they're small or whether they're tall, that it is super easy to be a scientist," Powers said. "There are two main things that you want to do to be a scientist: make good observations and ask lots of questions. And that makes you a scientist."
Despite its ease, the responsibility of going out and getting involved is placed upon the people themselves. Jones said that all children should be encouraged to pursue what they want and overcome both their fear of the subject and the gender expectations of the career.
"I think it's good to get all kids interested in science," Jones said. "Boys and girls are more likely to just assume that science and math is difficult without even really trying to get into it, because you grow up in a society where it is proven [to be] … If you're into it, then you learn about it. If you're excited about it, you find opportunities to learn about different aspects of science or math or engineering."