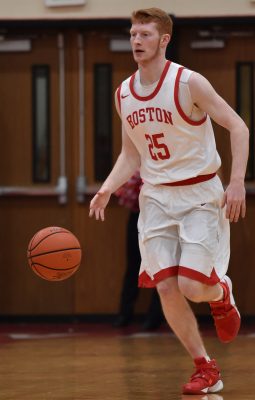 The Boston University men's basketball team will kick off its season on Friday night when it takes on local rival Northeastern University at historic Matthews Arena.
The teams opened their seasons against each other last year when the Huskies edged the Terriers 87-84 in overtime. This season's opener will serve as an important litmus test for the Terriers and their revamped roster.
BU returns five seniors, including last season's leading scorer and Patriot League All-Conference First Team member guard Eric Fanning. After being named to the Patriot League Preseason All-League team this year, Fanning will try to match the high expectations of those around the league and on his own team.
"The thing about our time that everyone has to understand is that this a much different team from last year's team," said BU head coach Joe Jones. "I think the biggest thing that Eric has to bring to the table is a higher level of leadership and becoming defender and rebounder on a more consistent basis. We know he can score; he's going to be looked at to score, but I'm looking for a better version of him than what we got last year."
However, in no way will Fanning have to carry the team. While he may BU's most dangerous scorer, he is complimented by experienced veterans who are more than capable of putting up points.
Junior guard Cedric Hankerson is fully recovered from a knee injury he suffered last season, and he will play a pivotal role for the Terriers. The Miami native came into last season as BU's best player, but he only played one game before tearing his ACL.
Hankerson can potentially form a dynamic scoring duo with Fanning, but he needs to get healthy first. Until then, Jones plans to exercise caution in managing his minutes.
"Coming back from an ACL [injury] is not easy," Jones said. "Right now, he's taking it day by day, trying to get his rhythm. He's been a bit banged up in the preseason and hasn't had a chance to get a ton of reps. We're just trying to get him back healthy."
While Hankerson and Fanning are the Terriers' best scorers, the success of this team starts and ends with the play of sophomore point guard Kyle Foreman.
After bursting onto the scene last year as a freshman, Foreman established himself as BU's best ball handler and playmaker. On a team with plenty offensive options, Foreman's role as distributor will become even more crucial. Last year, the 6-foot-1 guard led all Patriot League rookies in assists with 3.9 per game. If Foreman can build off of his numbers last season, the Terriers will be in prime position to compete for a conference title.
"He's a very important part of our team, especially with [junior guard] Eric Johnson out right now," Jones said. "What I'm looking for Kyle to be this year is a better leader, a more vocal leader and a better distributor of the ball. I'm looking for him to take that next step as a leader and as a distributor. His job is going to be getting these guys shots and running our offense."
While Jones believes the BU offense will be able to take care of itself, his chief concern is making sure his team is committed to playing defense and getting rebounds. On Friday, the Terriers will certainly have their hands full protecting the glass against a long Huskies squad.
Northeastern newcomer Alex Murphy is a sixth-year graduate student who previously played for traditional basketball powerhouses Duke University and the University of Florida. The 6-foot-8 forward will be joined by 6-foot-10 sophomore Jeremy Miller in an intimidating frontcourt.
Controlling the glass will be key for BU, as the Huskies begin the season adjusting to life without their top scorers from last season. In fact, Miller, who averaged just over eight points per game last year, is the leading returning scorer for Northeastern.
The Terriers will have a clear advantage in experience, but Northeastern's length can keep them in the game if they can manage to grab offensive rebounds.
"Rebounding, loose balls and just competing throughout the game is going to be vital," Jones said.
Jones recognizes that his team will not come out firing on all cylinders, but he does hope to see the hard work the Terriers put in during the preseason pay off.
"First, I want to see a team that will compete for 40 minutes; I want them to be able to execute the things we've been working on on both ends of the floor," Jones said. "It's a great test to see where we are right now. I'm very excited for them. It's been a long preseason and now it's finally here. We need to go play some games and find about more about ourselves."