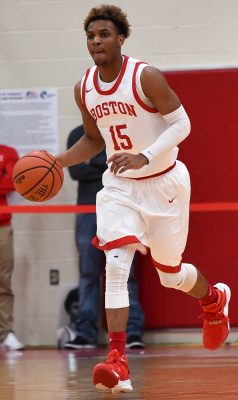 The 3-point line was the determining factor in the Boston University men's basketball team's season-opening loss to Northeastern University on Friday night.
The Terriers (0-1) struggled to defend the Husky (1-0) shooters in the loss and didn't convert their own opportunities from long range.
Northeastern shot 10-for-21 from deep in its 87-77 win over the Terriers, who shot 8-for-30.
BU head coach Joe Jones credited Northeastern's ability to score in multiple ways.
"We struggled to guard people," Jones said. "They shot over 50 percent in the first half and shot it well in the second half. The zone didn't work, we tried to blitz up top and we tried to switch. We were able to stop them from scoring field goals in that stretch, but then we just fouled."
The Huskies got contributions from multiple players in the victory. Graduate student Alex Murphy shot 3-of-4 from deep as part of his 20 points, and senior T.J. Williams knocked down a three on the way to a game-high 30 points.
On the other end of the court, the 3-pointer was a significant part of BU's attack, with nearly half of its 66 shots being threes. However, it knocked down just eight of 30 3-point attempts.
Two of BU's better shooters, junior guards Cedric Hankerson and Cheddi Mosely, struggled shooting. They went just 2-of-9 and 2-of-8, respectively.
Jones said it was understandable that Hankerson didn't perform to his capabilities in his first game back from an ACL injury.
"[Hankerson] hasn't played a ton," Jones said. "He's been banged around, so it's going to take him time to get his timing down — he hasn't played in a year."
In the first half, more than half of Northeastern's shots and points came from 3-pointers. They took 31 shots overall, with 16 of them coming from long range. The Huskies knocked down 7-of-16, for 21 of their 41 first half points.  
The Huskies moved the ball around against the Terriers' early 2-3 zone to find open looks. However, as the half went on, they hit contested shots as well.
The Terriers shot just 7.7 percent from distance in the first half, hitting one of 13 attempts, and found themselves in a 16-point hole.
Jones said his team's lack of shooting in the first half was a combination of taking bad shots and missing open looks.
"I thought we rushed some [of the shots], but their zone was very good," Jones said. "We weren't able to get into the paint enough. We didn't drive enough, so we just threw it around the perimeter and took tough shots. It was the first time we saw the zone."
In the second half, BU did a better job of defending the 3-point line as a result of their increased attention to Northeastern's shooters.
The Huskies took just five 3-pointers in the second half, but made three of them, including two big ones from Murphy down the stretch.
Murphy hit one with four minutes left to extend the lead to 10. He hit another one from the same spot about 30 seconds later to push the lead back up to 11, creating a daunting deficit for BU.
To go along with their increased efforts on defense, the Terriers' shooters bounced back in the second half, taking 17 3-pointers and making seven.
Freshman guard Destin Barnes was a big part of the Terriers' attempted comeback. The Chicago native stepped up in the first appearance of his college career, hitting three of four attempted threes in the second half.
Jones credited his defense's switching for limiting Northeastern's threes in the second half, but it wasn't enough to get the victory.
"We were switching some stuff," Jones said. "We were able to get them out of rhythm a little bit. The adjustment of switching so that we weren't hedging on every screen was good, but it still comes down to guarding the ball, and we couldn't do that."