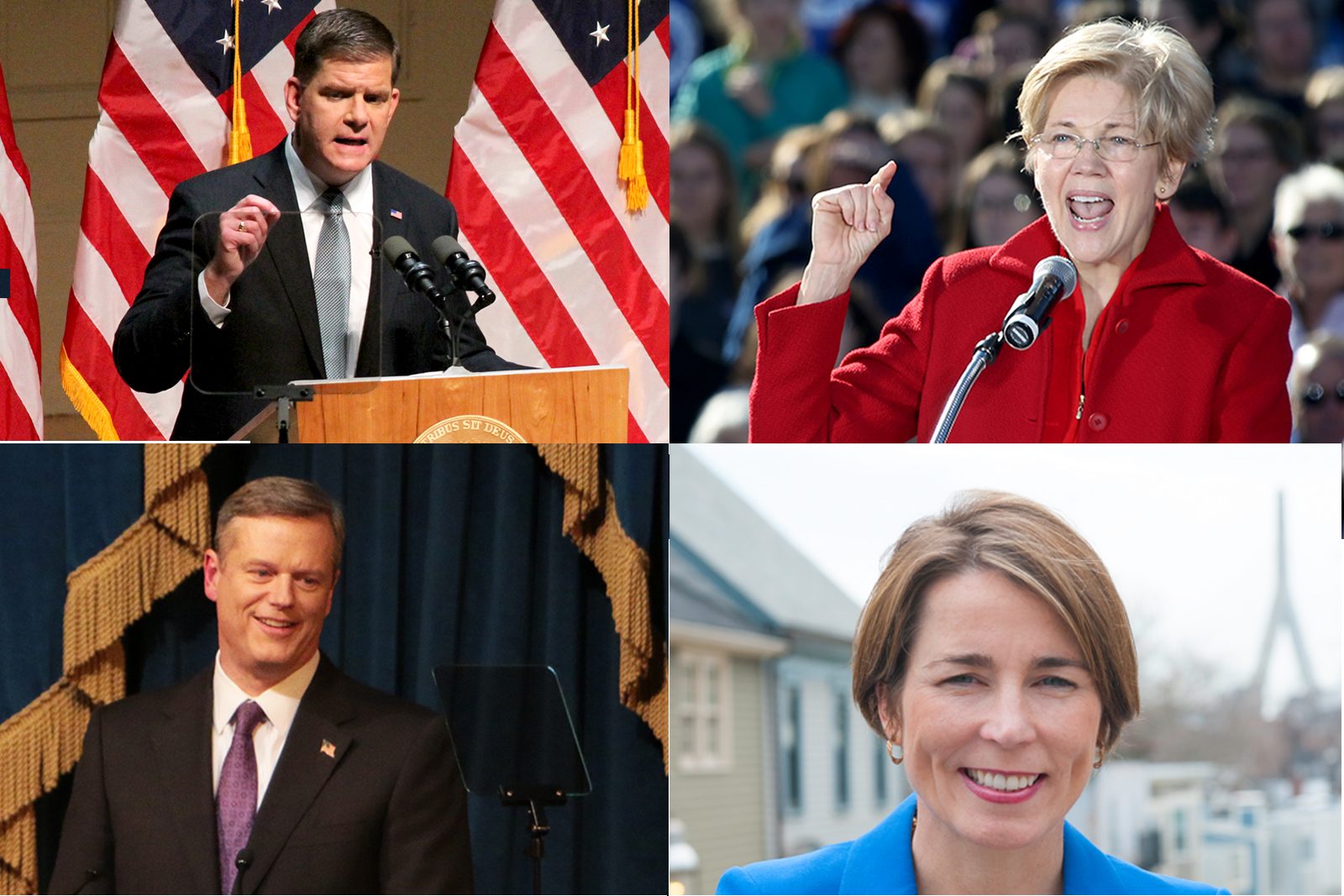 By Miguel Hernández Mercado and Dave Sebastian
In the aftermath of an election that left the Republican Party in control of both the White House and Congress, several Massachusetts and Boston leaders called for unity and collaboration to ensure good governance.
Massachusetts Gov. Charlie Baker said in a Wednesday statement that the commonwealth should cooperate with President-elect Donald Trump's administration in order to deal with the nation's issues.
"The people of Massachusetts deserve a federal government that works collaboratively to solve our nation's problems and it is my hope that President-elect Donald Trump works quickly to unite our country after a divisive election," said Baker, a Republican. "Our administration is eager to partner with the next administration to tackle the most pressing issues for our state, region and country."
Maura Healey, the attorney general of Massachusetts, wrote in a Wednesday statement that although Democratic presidential candidate Hillary Clinton's loss is "stunning and painful," the country should step forward and ensure the upcoming government's success.
But the commonwealth, Healey said, needs to lead itself on an array of issues — such as affordable healthcare, gender equality, ending gun violence — and that subversive interference of those issue by the Trump administration would not be tolerated.
"I will forcefully oppose any effort by him or Congress or anyone else to roll back the progress we've made under President Obama," Healey, a Democrat, said in the statement. "I will never stop fighting for what's right."
Massachusetts Sen. Elizabeth Warren said in a Thursday speech in Washington, D.C. that she is willing to put differences aside with the president-elect if he is ready to work on strengthening economic security for Americans.
Warren said Trump should be the "president for all," as he said in his victory speech, and the Democratic Party will serve as an opposition party that caters to the rights of Americans.
"Republicans are in control of both houses of Congress and the White House. And that makes our job clear," Warren, a Democrat, said. "As the loyal opposition we will fight harder, we will fight longer and we will fight more passionately than ever for the rights of every human being in this country to be treated with respect and dignity."
Boston Mayor Martin Walsh said on election night that with 269,510 people voting in Boston, the voter turnout is "not quite historical yet," The Daily Free Press reported on Nov. 9.
Walsh could not be reached for comment on the presidential election results.
Boston City Councilor Timothy McCarthy wrote in an email to the Free Press that unity is imperative and that the nation needs to uphold its core values, albeit differences.
"I believe President Obama said it correctly," wrote McCarthy, a Democrat. "The election was a[n] intramural scrimmage, and now we are both back on the same team. [However] we voted, whoever we supported, we wave to move on and continue to fight for what we believe in."
A few Boston-area professors said Trump's spirited rhetoric during his campaign would not be actualized fully in his presidency, as the president-elect has shown adjustments to his plans.
John Portz, a political science professor at Northeastern University, said the next step for all political parties should be to foster understanding and to put differences aside. Obama's meeting with Trump on Thursday, Portz said, is an example of such effort.
"Elections are about highlighting differences, and throughout the election, all these people have been highlighting the differences between Democrats and Republicans … governing is about overcoming differences," Portz said. "If they can't, Massachusetts loses, Boston loses."
John Berg, a political science professor at Suffolk University, said Trump's presidency would not make the country more divided than it has been over the past eight years.
"It won't be any more divisive than it already was," Berg said. "We've seen it through the entire Obama administration, during which there was party division between the presidency and Congress and the Republicans in Congress were not willing to pass any programs that the Obama administration was proposing."
Several Boston residents said they are pleased with the state's leaders' desire to move forward with unity.
Eva Tena, 30, of Roxbury, said although she is appalled by Trump's victory, she appreciates Massachusetts leaders for their conciliatory yet steadfast tone.
"Massachusetts, as a blue state, could set an example and lead," she said. "They always need somebody to fight in order to make a difference — that's how everything is done in America."
Annie Riddle-Wilder, 24, of Brighton, said although the election result was unexpected, having productive collaboration between various governmental elements would be beneficial. 
"It's devastating; it's frustrating," she said. "I hope that they collaborate in a positive node. Massachusetts is a very blue, liberal, good-idea state."
Fatima Smith, 66, of Roxbury, said the election cycle has been riddled by negative sentiments, and differences should be set aside in order for the government to function.
"It seems like there's too much negativity in the campaigning," she said. "We can't function on negativity; negativity will produce negativity. We need to set aside differences and treat people as human beings."