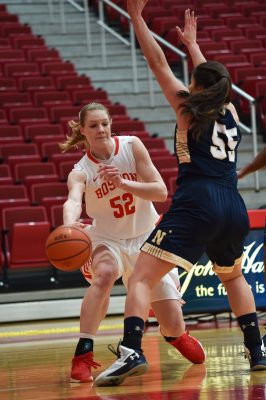 In a matchup of crosstown rivals, the Boston University women's basketball team faltered against Boston College on Monday night, suffering a 67-49 defeat.
Losing both the turnover and the rebounding battle, the Terriers (0-2) were handed their second straight loss to begin the 2016-17 season.
Senior point guard Sarah Hope rode a hot hand for much of the second half, hitting a trio of 3-pointers en route to a team-high 13 points. Junior forward Kara Sheftic matched Hope with a 13-point performance, while junior center Sophie Beaudry added eight points and 13 rebounds.
However, their efforts were not enough to faze a talented ACC side in the Eagles (1-1).
"I was pleased with our effort," said BU head coach Katy Steding. "But shots did not fall, and we fouled too much. We have things to work on, for sure. We have been struggling a little bit with turnovers, and we have to make sure that we are running quick and clean actions and setting better screens so that our passes are to open people rather than to someone that is contested."
Piloting what was a physical battle in the post, BC center Mariella Fasoula notched 21 points and eight rebounds. Senior Kelly Hughes knocked down four 3-pointers to equal Fasoula's point total and become the Eagles' all-time leading 3-point shooter with 254, one more than former teammate Nicole Boudreau.
Eagles forward Ella Awobajo contributed seven points and six boards, while freshman Emma Guy recorded six points and five rebounds in the victory.
"They were battling hard in there," Steding said. "That was a battle of big bodies. We are finding out who we are, and this team fought hard tonight."  
BC applied immense pressure on the Terriers, who opened with 10 first-half turnovers. This led to BC sprinting out to an opening 8-2 run paced by a pair of Fasoula layups.
Fasoula, who garnered 14 first-half points, then upped the lead to 16-8 with consecutive and-one finishes. She later finished on a lefty teardrop around the rim to hand the Eagles a 20-8 advantage after 10 minutes.
The second quarter was more even-paced as BU lessened the deficit to six after layups by Hope and senior guard Courtney Latham preceded a beautiful assist from Hope to Beaudry, who recorded nine first-half rebounds.
The team proceeded to cut the BC lead to three after scores by junior guard Meghan Doogan and senior forward Meghan Green. However, the gap quickly jumped back up to 12 by halftime.
The Terriers ramped up the defensive intensity at the outset of the third quarter, though, forcing five turnovers through the first six minutes.
"We knew that we had to throw the first punch, so we came out with a more aggressive mindset," Steding said. "[The girls] responded to what we said at halftime about being more aggressive defensively, and we're always better offensively when we play better defensively."  
This resulted in BU slicing the BC lead to just four points after a Hope layup with 3:55 left in the quarter made it 38-34.
Following a deep Green three with 27 seconds left in the quarter, the Terriers trailed by a slim 46-41 margin entering the final period.
"We had some good moments, not just those from [Hope] and [Beaudry]," Steding said. "Now, we have a little bit more depth."
BU lapsed defensively to begin the fourth, and a 6-0 Eagles spurt increased their lead to 52-41.
An and-one finish by Fasoula resulted in the disqualification of Beaudry with five personal fouls and a 57-45 Boston College lead with 5:57 remaining in the contest, thus ending any late-game comeback by the Terriers.
The Terriers will look to recover this Saturday as they travel to upstate New York for a tilt against the State University of New York at Albany, which is coming off a program-high 28-win season.