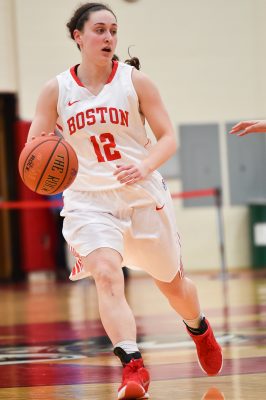 Though the Boston University women's basketball team fell in its first two games of the season, senior Sarah Hope has been one of the bright spots for the team. The Medway native has showcased her outside shooting prowess while leading the team in scoring with 13 points per outing.
In 34 minutes in BU's season-opener against Northeastern University, Hope nearly brought her team back from a formidable deficit with 4-for-11 shooting from the 3-point line, which constituted each of her field goal attempts on the afternoon. Against Boston College Monday night, Hope shimmered from beyond the arc, hitting three of her seven attempts in 39 minutes to keep the Terriers within striking distance for the majority of the contest.
"Everybody knows that Sarah wants to shoot threes," said BU head coach Katy Steding. "I want her to shoot threes, and the whole country wants her to shoot threes because she is a nice 3-point shooter."
However, the outside shot is not the only trick that Hope has in her repertoire. She also dished out four assists against Northeastern (2-0) before dropping three dimes at Conte Forum on Monday night against the Eagles (1-1).
"She has a whole lot more depth to her game than just being a 3-point shooter, and we need to make sure that she knows that," Steding said. "We need to continue to run actions that get her the ball in different spots."
Beaudry becoming a force in paint
BU has reason to be optimistic about the prospects of shoring up its defense down low. After sitting out the entirety of the 2015-16 season following her transfer from Monmouth, 6-foot-5 junior center Sophie Beaudry is promising to become a force to be reckoned with throughout the season.
While the nerves of returning to the court for the first time since 2014-15 may have affected her 2-for-12 shooting performance in the loss to Northeastern, Beaudry shook off the butterflies to the tune of a dominant showing against BC. Facing off against the former All-ACC Freshman Team center Mariella Fasoula, Beaudry stuffed the stat sheet with eight points, 13 rebounds, three assists and four blocks over 26 minutes of play before fouling out in the fourth quarter.
Her turnover count of five from Monday might be a daunting statistic, but Beaudry managed to improve her proficiency from the field to 57.1 percent. If she can become a threat to the opposition in the post, it should create open shots for the rest of her teammates on the perimeter.
For Steding, reacclimating Beaudry to the flow of the game is a process, but it is one that is certainly worth undergoing.
"Sophie was aggressive defensively, but we need her to be more of a threat offensively on the block," Steding said. "They [Beaudry and Fasoula] were battling hard in there, so she got a little tired, and you get a little less aggressive when you're tired. Sophie was focused, there was just a little bit of a fatigue factor there."
Depth showing for Terriers
It is not just the likes of Hope and Beaudry that are producing, as BU has received assistance from numerous role players over the first pair of outings.
The Terriers received 13 bench points on Monday compared to just four for the Eagles, as senior forward Meghan Green paced the reserve squad with seven points and four rebounds. The team also garnered a 13-point effort from junior forward Kara Sheftic.
On Friday afternoon, senior guard Courtney Latham played a substantial role off the bench for the Terriers in the loss to Northeastern, hitting six of her eight shots for 12 points to accompany her nine rebounds and five assists.
Steding is proud of her team's versatility this season, and said she believes that it should be a key factor as the Terriers look to break into the win column at the State University of New York at Albany this Saturday.
"We have proved that we have more than just a couple of people on the team," Steding said. "In the past couple of years, it has been a bit thin when we get to our bench. We would get in some foul trouble, and then it would be, 'How are we going to compensate for whoever is not in the lineup?' Now, I feel like we have a little more depth, experienced depth as well."