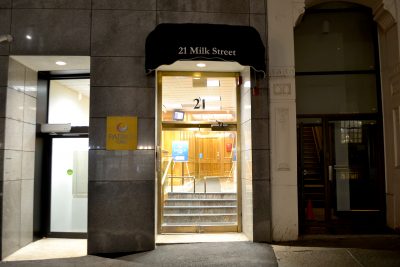 Massachusetts officials have called for the state legislature to change the wording of The Regulation and Taxation of Marijuana Act, which was approved as Question 4 on Nov. 8 by voters, in order for regulations to be properly implemented across Massachusetts, according to Massachusetts Senate President Stan Rosenberg.
The bill in its original form, which passed by a 53 to 46 percent margin, according to The Associated Press, will allow recreational marijuana use to be legal as of Dec. 15. Retail stores will be allowed to open starting January 2018, according to the initiative petition for Question 4 filed with Attorney General Maura Healey's office.
Rosenberg is among those wanting to bring "the stakeholders to the table" in order to improve certain details of the bill such as the tax rate, potency, and packaging.
"The tax rate has to be sufficient for all of the costs associated with setting up a regulatory agency, funding its operation, paying for enforcement, licensing, all of those functions," Rosenberg told The Daily Free Press.
The full bill was made available to the public before Election Day and was included in a voter's guide that was sent to every voter household in the commonwealth, according to Rosenberg, although he acknowledged not all voters have actually read the 25-page bill.
"On complicated matters of this sort, people vote on a ballot question in principle, not based on all of the details in the bill," he said
Rosenberg said since ballot questions are written by their proponent, it is important to listen to those on the other side.
"We need to hear and consider the opinions of others and consider them in perfecting the bill, but it doesn't mean gutting the bill," he said.
Jim Borghesani, the spokesperson for YES on 4, a pro-marijuana legalization organization, said he is satisfied with the current draft of the bill.
"We think that it is very well written and very comprehensive," Borghesani said. "Once regulators actually write the codes that will govern the industry, I think the legislature will find that there is very little if anything they need to do."
While proponents of marijuana legalization do not wish for the bill to be adjusted, they have no plans to obstruct the legislators if they chose to take action to amend the bill, according to Borghensani.
"[The] legislature can change any law they want so we can't do anything to block it," Borghensani said. "But we can state our opinion. We can go to hearings if they do hold them and just state our opinions."
Several Boston residents expressed varying opinions as to whether or not the bill should be subjected to changes.
Joseph Duquette, 23, of the Fenway-Kenmore area, said legislators should be able to change the law.
"I don't see why they shouldn't be able to," he said. "If it's just for practicality, I would trust the legislators to make a reasonable change."
Nora Tirrell, 20, of Back Bay, said the bill should not be changed, and that marijuana legalization actually helps young people.
"I don't think they should [change it] because the bill already passed," she said. "It's a good thing and will hopefully make the youth less reckless now that they have the option to smoke marijuana without fearing being caught. So many college students have been doing it regardless of the fact that it's been illegal."
Monisha Pahuja, 29, of the North End, said the state has a chance to redeem itself after poorly implementing its medical marijuana laws.
"There are legitimate concerns with respect to getting the implementation right, but the 'Mass. Machine' has left voters with little confidence given their record implementing medical marijuana regulations," she said. "The commonwealth should use this as an opportunity to prove its competence to regulate and they have a full year to do it."