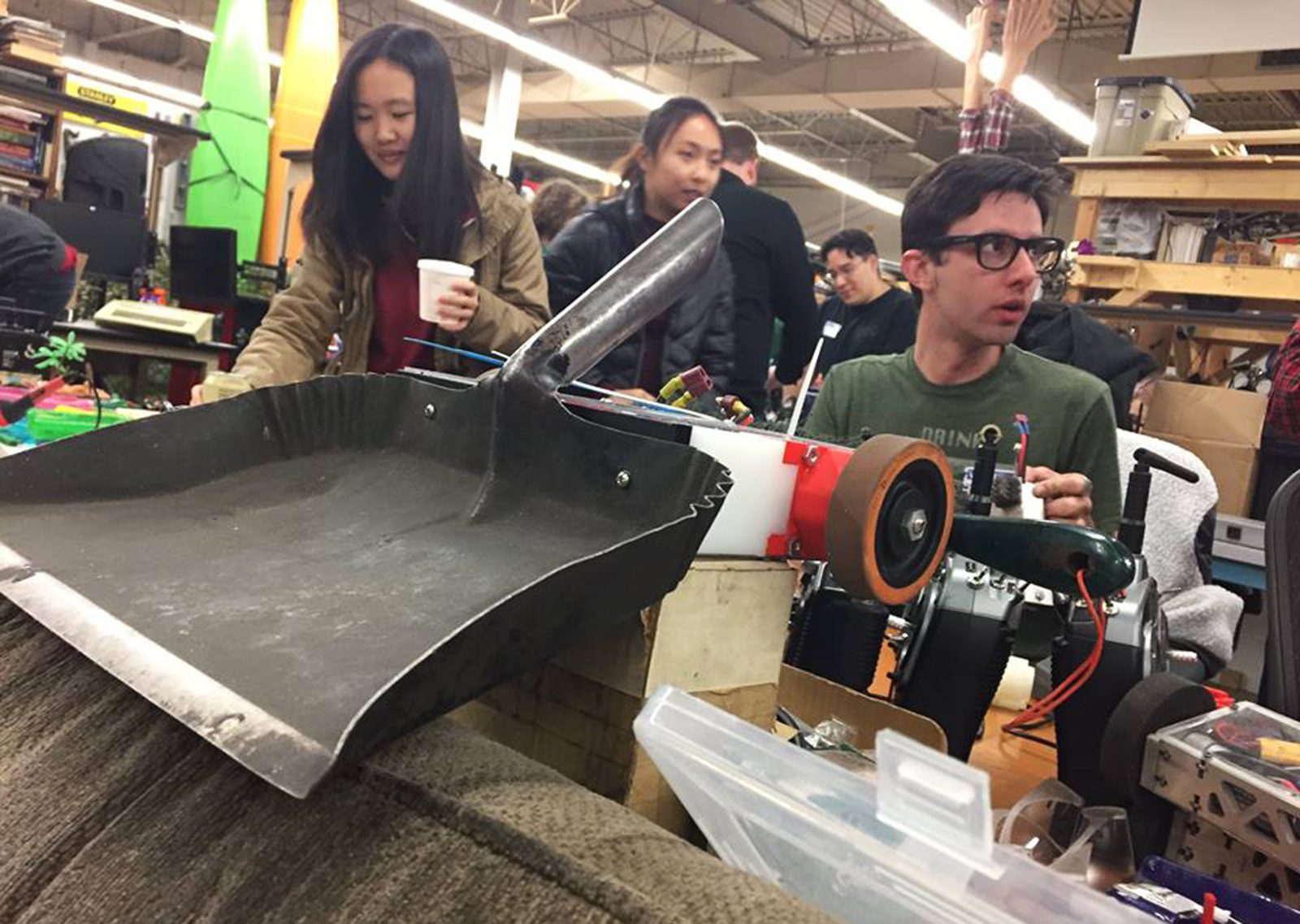 Taking post on opposite corners, two robots face off in a fight to the death in a bulletproof arena. The audience counts down from five, eyes glued to the plexiglass. Upon the final number, the robots rush at each other, using the weapons attached to their small bodies to tear each other to shreds. Only one robot will emerge from the arena the victor — the other in shambles, if not in flames.
After a long hiatus, Artisan's Asylum hosted MASSDestruction the Fifth, the fifth in a series of competitions that challenges makers to create robots to battle to the death. Artisan's Asylum, a nonprofit maker-space, planned the event to facilitate their devotion to teaching, learning and practice of robotic fabrication, according to Jason Kuehl, the president of Artisan's Asylum.
"Mostly, the purpose of is to get together and work with other people to fix each other's robot and participate themselves," Kuehl said. "A lot of people will have bots that will not have issues, and they will basically steamroll the event. Then we will have people that will offer tools and motors and PCs so other people can participate in the whole event."
One of the competitors in MASSDestruction, Kara Luo, worked with her friend, Selena Feng, on their first robot, Spidey Man, together. Although both are first-year Massachusetts Institute of Technology students with previous robotics experience, the pair said that they still ran into problems throughout the process of their first battle-bot competition, including dying motors and belts falling off.
"This is our first bot, so we had to learn a new machine and generally figure things out," Luo said. "People were very helpful throughout the process."
Luo and Feng are not the only new faces that Kuehl has seen enter the competition. With competitors ranging from small children to grown adults, he said MASSDestruction the Fifth has attracted more people than past events.
"Some of these [robots] I have seen before, others are basically brand new," Kuehl said. "This is the first time we've had over 40 people come to this event that are participating, and most of them are brand new faces that I haven't seen before."
Plenty of competitors made the final match of the first round interesting, Kuehl said, since all functional robots battle it out in the arena as opposed to the usual one-on-one matches.
"We had as many as nine robots in the arena at once, just destroying each other," Kuehl said. "Someone found a little toy truck that, when you push the button, the doors opened up, and there was a little helicopter in it. So there was a little helicopter flying around in the arena, and everyone was rooting for this little toy helicopter to be the last bot standing."
Calin Belta, director of the Boston University Robotics Lab, said robotics has been gaining popularity and relevance in the community as more and more people are becoming interested and engaged in it.
"Robotics is the future," Belta said. "We saw the revolution of the internet and computers, so the next thing is going to be robotics. I think that's going to be the interaction between computers and the real physical world."
Belta said children as young as elementary school age can become involved in robotics.
"Robotics can be taught at different levels," he said. "In my lab, we have Ph.D. students, and going down to younger kids, we have some undergrad and even some high school students. Sometimes, there are even younger kids from primary school. They all like robotics, and they have a different understanding of robotics."
With robotics in general gaining popularity in the community, Kuehl anticipates more people will continue to participate in MASSDestruction. Now that the hiatus of the battle-bot competition is over, he hopes to hold the events more frequently to give makers a creative outlet for their inventive imaginations.
"This is the fifth MASSDestruction. Every time we do them, we get more people. So we hope to keep continuing that trend," Kuehl said. "We plan to do them every two to three months, get as many people as we can, and run it until people leave or stop coming. But that doesn't seem to be happening anytime soon."