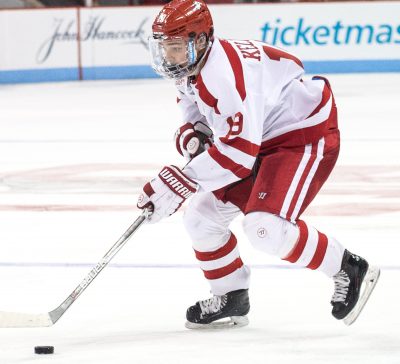 After splitting a pair of games with No. 16 University of Michigan last weekend, the No. 5 Boston University men's hockey team will resume Hockey East play when it begins a home-and-home series with the University of Connecticut on Friday.
The Terriers (5-3-1, 1-0-1 Hockey East) are coming off an up-and-down weekend, as they suffered their first shutout in a 4-0 loss to the Wolverines (5-4-1) on Friday before completing a come-from-behind 4-2 victory on Saturday. The vaunted BU offense came alive in the third period of the second contest, scoring three goals in the frame to escape Michigan.
Despite Friday's loss, BU head coach David Quinn was pleased with his team's performance the following night, saying that it showed the Terriers' improvement in road games.
"Friday night, we got down early and even though the shot attempts and the shots saved say that we must have played pretty well, we didn't," Quinn said. "Then we were a really good hockey team on Saturday night.
"To us, it's about getting better and making progress, and I just go back to six weeks ago, we lost game one to Denver, and we lost game two. We go to Michigan, we lose game one, and we bounce back and win game two. I think we've played some good games on the road, even though our record may not say that. We're a work in progress."
Another possible reason for Friday's sluggish offensive performance is the injury bug that's going around Agganis Arena.
Star freshman forward Clayton Keller saw no ice time against Michigan, as there is no timetable for his return from a lower body injury suffered in a Nov. 5 win against Northeastern University.
On top of Keller's absence, junior forward Nikolas Olsson and sophomore forward Ryan Cloonan also missed last weekend with injuries of their own.
Quinn said that while Cloonan is still out, Olsson "might be able" to get back on the ice sometime this weekend, which would be huge for a Terrier team that used junior defenseman Brien Diffley and sophomore counterpart Shane Switzer as forwards in Saturday's win.
As for this upcoming weekend, the battered Terriers will take on a Huskies side (3-3-5, 1-1-1 Hockey East) that has not won in their last four games.
Most recently, UConn settled for a 3-3 tie against Ohio State University on Saturday. Huskies goaltender Rob Nichols made a career-high 46 stops in the draw, earning him Hockey East Defensive Player of the Week honors for the second time this season.
Nichols, who holds a middling .915 save percentage through six games played, has often been carried by the offense in front of him. UConn is averaging a healthy 3.1 goals per game, led by sophomore Tage Thompson and former BU commit Maxim Letunov. Both forwards have double-digit points and are a threat to score at any moment.
Knowing that BU lost 5-2 at the XL Center last season, Quinn stressed that his team must be prepared to go against some of the top scorers in the Hockey East in another hostile environment.
"They like to play fast, I know that," Quinn said. "They're a team that likes to get the pucks behind your D. That top line's good, Max and Tage, those guys are dangerous. You're talking about two of the premier forwards in this league. You got to be aware every time they're on the ice. They're lethal on the power play obviously. They're good at home. There will be a great crowd there tomorrow night … We've got to be ready to go once the puck drops."