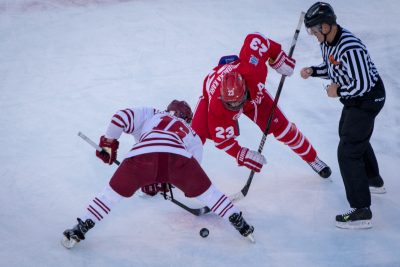 Not only was Sunday a good day for the No. 5 Boston University men's hockey team, it may have been an even better day for Boston Bruins fans.
Playing at Fenway Park in the heart of the city, Bruins prospects Jakob Forsbacka Karlsson and Charlie McAvoy shined in the Terriers' (12-5-2, 5-2-2 Hockey East) 5-3 win over the University of Massachusetts Amherst. The duo combined for three points and five shots.
Drafted by the Bruins 45th overall in the 2015 NHL Draft, Forsbacka Karlsson has been on fire as of late. The sophomore forward scored twice against the Minutemen (5-15-2, 2-8-1 HE) just three days after netting his first career hat trick in a 5-4 overtime win versus No. 10 Union College.
Add in his two assists in a 5-2 win against Yale University on Dec. 13, and Forsbacka Karlsson, who often draws comparisons to current Bruins forward Patrice Bergeron, now has seven points in his last three contests.
"I'm not sure, it works that way sometimes," Forsbacka Karlsson said when asked what has led to his scoring streak. "For a while, it won't come, then the next game you'll get three. It's nice to get this start to 2017."
BU head coach David Quinn noted that Forsbacka Karlsson appears quicker than he was his freshman season, when he led the team in points with 30.
"He's a little bit more agile, he's a little bit more elusive," Quinn said, "Slippery would be another good word to use. The thing he looks like he's done is he's picked up half a step of quickness. … You want to talk about an elite player and an elite person, he's as good as everyone thinks he is, and he's probably a little bit better."
For a Bruins team that could use a fresh crop of forwards, Forsbacka Karlsson's performance in front of the Fenway crowd was a huge positive. The Stockholm native could move on to the professional level as early as next season, and with each passing game he looks better prepared for the opportunity.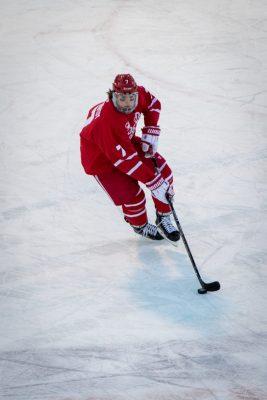 Not to be outdone, McAvoy had a solid afternoon himself. The sophomore defenseman from Long Beach, New York entered Sunday's game fresh off a gold medal win versus Canada at the World Junior Championship.
The Bruins' 14th overall pick in last year's draft picked up right where he left off against UMass. McAvoy found the puck in the left circle after freshmen forward Clayton Keller's slapshot was deflected away. One surefire shot later, McAvoy put the Terriers up three and notched his third goal of the season.
"It was a good job by Clayton up top to just get it past those two wingers and try to get it to the net," McAvoy said. "Usually good things happen. It was kind of a lucky bounce, just shot it as hard as I could and it went in."
McAvoy's offensive ability is a key part of what makes him such a promising NHL prospect. He now has 14 points on the year after notching 25 during his freshmen campaign. Similar to Forsbacka Karlsson, McAvoy appears ready for the next step up, and Sunday's game was just another example of that.
There's no telling when exactly the two Bruins prospects will take off for the NHL. Sunday's game, played just three miles from TD Garden, was a good opportunity for Bruins fans to watch some future playmakers. As the Terrier faithful has come to expect, the pair came through with strong performances.
Despite originally being a New York sports fan, McAvoy admitted that Boston has grown on him and that playing at Fenway Park was something he'll never forget.
"I'm a New York kid, and obviously I grew up a New York sports fan," McAvoy said. "Then you get to Boston, and before I was even a Bruins draft pick I had been to Fenway. It's such a historic building, such a great city. You kind of take on a little bit of an allegiance to the Sox there. Once I got my Red Sox hat, then it was kind of serious.
"[But] playing here was a blast, and it's something I'll remember for a long time."