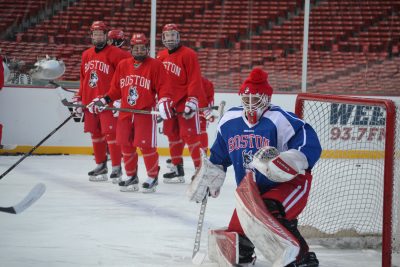 It's been an eventful past couple of days for the No. 5 Boston University men's hockey team, but they're not done yet.
Two days after a dramatic overtime victory over No. 10 Union College, the Terriers (11-5-2, 4-4-2 Hockey East) will participate in their third Frozen Fenway game in program history when they take on the University of Massachusetts Amherst on Sunday.
BU head coach David Quinn's group heads into the outdoor contest with plenty of confidence. On top of six Terriers winning gold medals at the World Junior Championship in Montreal, BU overcame a depleted roster to knock off the Dutchmen (14-5-2), 5-4, in overtime.
At a Frozen Fenway press conference on Friday, Quinn commented on his team's mental toughness and resiliency to pull off the win despite trailing for most of the third period.
"We've talked an awful lot as a group about forming some of the characteristics you need to win championships," Quinn said. "We know we have talent, but there's so much more to losing and winning championships. The thing we're optimistic about is we continue to show as the season has gone along that we might actually be forming some of those characteristics."
Quinn spoke Friday after BU had an hour-long practice on the Fenway ice. The seven players who competed in the WJC were back in Boston, but did not practice.
Senior defensemen and captain Doyle Somerby, who played in BU's last Frozen Fenway game in 2014, got a feel for the ice conditions before Sunday's contest.
"[It was] actually a lot better than I thought [it would be]," Somerby said. "Anything's better than my freshmen year ice conditions. It was pretty nice to be out there skating around."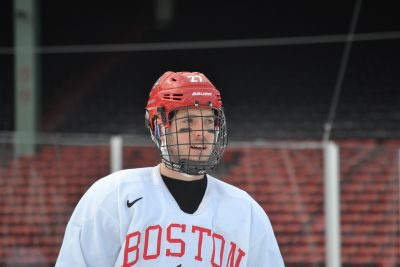 Looking at the game itself, the Minutemen (5-14-2, 2-7-1 Hockey East) are working to climb back to relevancy under first-year head coach Greg Carvel. They beat No. 12 University of Notre Dame last month, but more often than not, UMass has ended up on the wrong side of the scoreboard.
That doesn't mean that Carvel isn't doing things right out in Amherst, and Quinn has taken notice of that.
"He brings an awful lot of energy and experience," Quinn said. "They've got some good wins this year, I know they've had some tough losses. They've got some high-end players and we certainly have to respect them and be aware of them and be ready to take away time and space. If we do that, we'll put ourselves in a position to have success."
On top of that, this game is the Terrier's first Hockey East matchup of 2017. BU currently sits sixth overall in conference standings, and Sunday's game will be BU's first opportunity to run the table. Having the World Juniors contingent back with the team certainly won't hurt.
"We haven't played as many games as some other teams in the league, so this is a good chance for us to get a start on what we need to accomplish to hopefully be regular season champions," Somerby said. "Getting these guys back off their high of winning a gold medal is going to be really nice to come together and start tomorrow."
Junior forward and assistant captain Nik Olsson concurs, pointing out that Sunday's game is another chance to inch closer to a Hockey East championship.
"This is when it comes down to crunch time," Olsson said, "So this is time to win some championships and actually take steps towards that so every game matters from this point on. We can't take any nights off."
Editor's Note: The BU vs. UMass game was originally scheduled for Saturday, Jan. 7. With an impending snowstorm, Hockey East rescheduled the game to Sunday, Jan. 8. The story reflects this change.