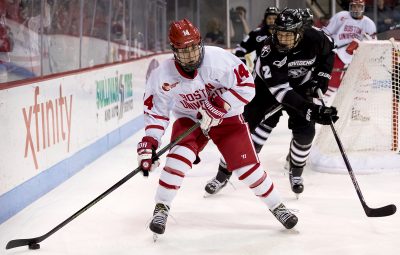 The wait is over, Terrier fans. After 23 days without a game, the No. 5 Boston University men's hockey team returns to action when it hosts No. 10 Union College on Thursday. It will be the Terriers' (10-5-2, 4-2-2 Hockey East) last non-conference home game of the regular season.
The main storyline heading into tomorrow's contest isn't who will be taking the ice for BU; rather, it's who won't be.
Seven Terriers – freshman forwards Patrick Harper, Clayton Keller and Kieffer Bellows, freshman defenseman Dante Fabbro, sophomore defenseman Charlie McAvoy, sophomore forward Jordan Greenway and freshman goaltender Jake Oettinger – are playing in the World Junior Championships in Canada and will miss the game against the Dutchmen (14-4-2). They represent four of BU's top-five point scorers, while Oettinger has started all but two games between the pipes.
This means that BU head coach David Quinn has some difficult line decisions to make, as he'll have just 11 forwards and six defensemen in uniform Thursday. Quinn said he wants to keep the line of senior Nick Roberto, freshman Patrick Curry and junior Nikolas Olsson together, as the trio has thrived as of late. The rest, however, is uncertain.
"We've only got 11 [forwards], so we've been trying a lot of different things," Quinn said. "We're not really sure what the D pairings are going to be yet, we haven't really talked about that. It's going to be a hodgepodge of lines and D pairings trying to find out what the right combination is."
The makeshift BU lines will have to be at their best to slow down Union, one of the best offensive teams in the nation. The Dutchmen, led by head coach Rick Bennett, were riding a six-game winning streak before falling to No. 7 University of North Dakota, 3-1, on Dec. 31.
Union averages 3.9 goals per game, fourth best in the NCAA, and is powered by senior Mike Vecchione and junior Spencer Foo. Vecchione leads the country in points with 37, while Foo currently holds an 18-game point streak.
Needless to say, limiting the duo's chances will prove key for a Terrier squad missing some of its best D-men. Quinn stressed committing to playing the body when Vecchione or Foo have the puck.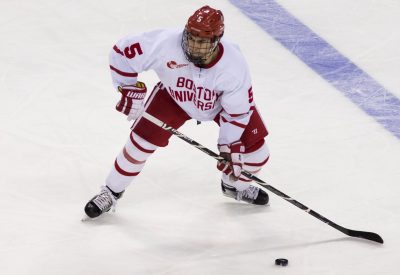 "You can't spend one ounce of energy fishing for the puck because they'll make you look bad," Quinn acknowledged. "If we can do that and play at a pace, we'll have a better chance to slow them down. I don't know if you can stop them, but to slow them down is what we're looking to do."
On top of that, Quinn wants his guys to control the puck so Union can't set up around junior netminder Connor LaCouvee, BU's likely starter.
"It's nice to have the puck, which will prevent them from having it, so that's certainly part of our game plan," Quinn said. "Just be committed to taking away time and space on them and not giving them a lot of room and understanding our responsibilities from a defensive standpoint, whether it be transition defense or D-zone coverage."
Thursday's game was already going to prove a challenge for the Terriers, but it's an even bigger challenge with some of the program's top players chasing gold at World Juniors. Guys like freshman forward Gabriel Chabot, junior defenseman Brien Diffley, senior forward Tommy Kelley, sophomore D-man Shane Switzer and freshman forward Johnny McDermott will likely play more than they're accustomed to.
Sophomore forward Bobo Carpenter, for one, can't wait to see how it turns out.
"Everyone's excited," Carpenter said. "We're back on the ice, it's been a long break, so everyone is ready to just drop that puck and show them what we can do and what we're made of."