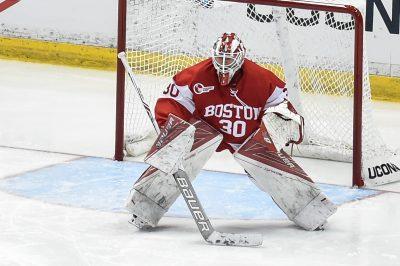 HARTFORD – Save for 4:12 of ice time back on Nov. 5 against Northeastern University, the 2016-17 season has often meant Connor LaCouvee was waiting in the wings. Freshman goaltender Jake Oettinger snagged the starting job right out of the gate, leaving the junior pining for his chance.
On Friday night at the University of Connecticut, a different tale emerged. LaCouvee seized his time in the limelight and reminded fans of the No. 5 Boston University men's hockey team that he's no shoddy backup.
"You saw a lot of energy from the kid right out of the gate," said junior defenseman Brandon Hickey. "You can tell he was focused in, and everything that was coming his way he was stopping early on. That's a big confidence booster for the guys up in front of him."
Superlatives aside, LaCouvee was a stone wall in what was ultimately a 2-1 win for the Terriers (6-3-1, 2-0-1 Hockey East). He swept aside 28 of UConn's (3-4-5, 1-2-1, Hockey East) 29 shots on goal, keeping BU in the game even when it was on the ropes.
And, much to the displeasure of head coach David Quinn, LaCouvee was often tested with only four teammates in front of him, with the Huskies were afforded six power-play opportunities. That didn't matter much for the 21-year-old from British Columbia, though, as he stayed cool, calm and collected when pressure swelled.
"He made some great saves, played very well," Quinn said. "We see it in practice throughout the week and we've seen it all year from him. He's been a little bit of a victim of circumstance because Jake has played well. But we gave Connor the start because he earned it, and he answered the bell."
Perhaps the most impressive part of LaCouvee's performance was that he kept UConn's dynamic forward duo of Tage Thompson and Maxim Letunov off the scoreboard. They're draft picks of the St. Louis Blues and San Jose Sharks, respectively, but none of their combined eight shots were enough to best No. 30 between the pipes.
Rather, it was a flash of the pad here or a firm blocker there from LaCouvee, who found out after last Saturday's 4-2 win over No. 15 University of Michigan that he'd be starting. So, as practice rolled around this week, LaCouvee said he was more dialed in than normal, looking for as many reps as possible.
That took form, he said, of bad-angle shots and anything to simulate game-like situations. His strategy clearly paid dividends, as he was named the first star against UConn.
"We did a great job, [senior defenseman] Doyle [Somerby] especially tipping those passes across to Thompson," LaCouvee said. "That was something we worked on in a PK meeting, so that was huge. If those guys aren't making those little plays we aren't winning."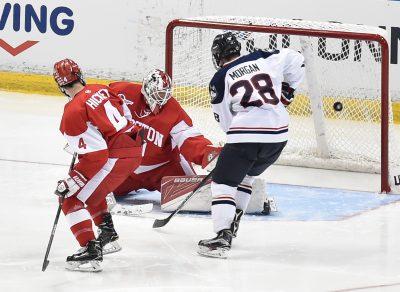 While LaCouvee spoke with humility after his near-perfect performance, it's perhaps the byproduct of history. He posted a .913 save percentage as a freshman, largely stuck behind Matt O'Connor, who is now part of the Ottawa Senators organization. Then as a sophomore, LaCouvee posted an 8-4-4 record, often splitting time with Sean Maguire, who is now in the Pittsburgh Penguins organization.
In other words, LaCouvee has earn every second playing time as a Terrier, and that work ethic spoke volumes to Hickey.
"The last week here since he heard he's been starting he's been pretty zoned in in practice," Hickey said. "He comes to the rink and he's ready to go, mad if you're taking light shots on him. He's a competitor and that's what I love about him."
Looking down the road, Quinn wasn't sure yet if LaCouvee would start in Saturday night's tilt at Agganis Arena, but the former has certainly erected a strong case. If nothing else, his showing illustrated BU has depth all over the ice.
"We feel very comfortable with all our goalies, and we're fortunate that we have three of them," Quinn said. "Two of them have played so far, and I know [UConn head coach] Mike [Cavanaugh] has two really good goalies as well."