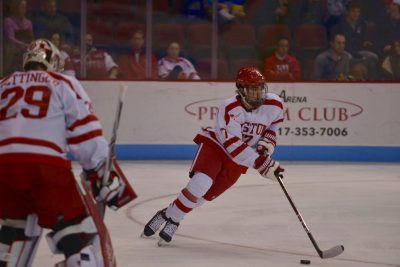 Before Saturday night, one would have to flip through the archives to find the last time the No. 5 Boston University men's hockey team lost at Agganis Arena. To be exact, it came on Dec. 4 to the University of Vermont, but the bitter taste of defeat is now fresh as can be.
With the University of Connecticut in town, the Terriers (6-4-1, 2-1-1 Hockey East) fell 4-0 for the second time in eight days. The game also marked the first time BU dropped points to an unranked opponent in 2016-17.
Despite those worrisome factoids, head coach David Quinn was surprisingly upbeat when reflecting on his team's performance, namely as it won the shot count, 37-20.
"Sometimes this game is funny," Quinn said. "Sometimes the puck finds it's way in one net and you can't get in the other, but at the of the day that's what this game is about – it's about scoring goals.
"You can have all sorts of territorial time, you can have all sorts of shots, you can have a good forecheck, you can do things well on the regroup in the neutral zone, but at the end of the day this is about productivity and scoring goals," Quinn added. "We weren't opportunistic, and they were. I don't know how much more needs to be said. That was the difference in the game."
As Quinn referenced at some length, it wasn't as though the Huskies (4-4-5, 2-2-1 Hockey East) controlled the game from puck drop to the final whistle. Rather, it was UConn's freshman goaltender Adam Huska who stood on his head and made 37 saves.
In particular, BU's top line of freshman Patrick Harper and sophomores Jordan Greenway and Jakob Forsbacka Karlsson threatened Huska throughout, combining for 16 shots. The team's six defensemen also rattled off 11 shots, and by the night's end UConn's head coach, Mike Cavanaugh, was ecstatic with Huska's play.
"In the first period [Huska] made some really acrobatic saves early, then I thought he was very good at controlling his rebounds," Cavanaugh said. "A lot of pucks hit him and stuck to him. He didn't really let them get any flurries around the net. He did a great job of keeping pucks to the corner and smothering anything that was around the net, not letting them get a lot of whacks."
While Huska stole the show, his counterpart in BU's goal, freshman Jake Oettinger, endured some struggles.
Sophomore Karl El-Mir got the scoring underway midway through the second period, taking advantage of a collision near BU's blue line and potting past Oettinger's blocker. Then junior Kasperi Ojantakanen made it a 2-0 game as a power-play opportunity expired, only for defenseman David Drake to add an insurance tally early in the third period.
As BU was pegged back and scrambling for a lifeline, the Huskies added a fourth with 5:44 left in the third period, as junior Corey Ronan pounced on a loose puck. In other words, an outburst across the second and third periods proved costly, and the Terriers could never quite recover.
"It's demoralizing because I thought we thought we had some great chances to make it 2-1 just before [UConn's third]," Quinn said. "For them to come down and score so easily, it can really deflate a team. I don't know how mentally tough and how much you encourage your team, that's tough to overcome."
What's probably toughest for the Terrier faithful to swallow is that Saturday night marked the first time BU was shutout since Feb. 22, 2013. That encounter took form of a 3-0 defeat to the University of Massachusetts Lowell.
But, as Quinn iterated repeatedly after the game, the sky is certainly not falling in the land of BU hockey. Sometimes, as he put it, the bounces just don't fall your way and a red-hot goalie is standing between the opponent's pipes.
What's encouraging then is the Terriers have a quick turnaround before them, with No. 11 Harvard University visiting on Tuesday evening. In other words, two points slipped away on Saturday, but Quinn isn't too worried about the future.
"Our schedule is doing us a favor because we don't have to live with this very long," Quinn said. "We get to play Tuesday night as opposed to living with this until next weekend. That's the good news. The good news is we get to get back at it and move past this. I want it to sting, but not sting to the point where it's going to stand in the way of us getting prepared for Harvard."