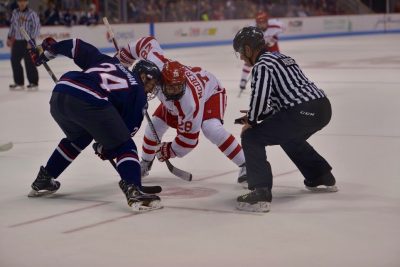 It's a long season, and it's more than likely that the No. 5 Boston University men's hockey team will be just fine come conference playoff time.
However, the Terrier faithful may be worrying, and for good reason.
For the second time in four games, the Terriers (6-4-1, 2-1-1 Hockey East) were blanked, falling 4-0 to the University of Connecticut on Saturday at Agganis Arena. BU outshot the Huskies (4-4-5, 2-2-1 Hockey East) 37 to 20, but could not find the back of the net and complete the weekend sweep.
The Terriers currently average three goals per game, but over their last four contests, they have averaged just 1.5 gpg. BU got double-digit shots in every period, but failed to get on the board.
"[We] just couldn't buy a goal," BU head coach David Quinn said. "[The Huskies] compete, they play hard, they block shots, they got a good team. I don't want to discredit them."
The lack of scoring as of late is likely due to the Terriers lacking some offensive playmakers, most noticeably freshman forward Clayton Keller. The seventh overall pick in the 2016 NHL Draft, Keller had five goals and four assists before suffering a lower-body injury in BU's 3-0 win over Northeastern University.
Besides Keller, junior forward and assistant captain Nik Olsson is sidelined with an upper-body injury, and sophomore forward Ryan Cloonan is dealing with an upper-body injury of his own. Olsson is an aggressive grinder who provides opportunites for his teammates, while Cloonan totaled 14 points his freshman year.
It's important for the playmaking trio to get back on the ice, but Quinn still believes that his team played well despite the puck not bouncing BU's way.
"Anytime you lose three of your top nine forwards, it's going to catch up to you eventually," Quinn said. "The game ended and I'm like 'God, it didn't feel like we played like a 4-0 loss.' It was just one of those games.You can do all these things great, [and] if you don't score and they do, you lose. It's that simple."
That isn't to blame the offensive inefficiency on the top two lines. Sophomore forwards Jordan Greenway and Jakob Forsbacka Karlsson, along with freshman forward Pat Harper have created scoring chances aplenty. The group combined for 16 shots on goal in the loss, led by a staggering nine shots from Harper.
"I thought they really were buzzing," Quinn said. "Harper alone had six Grade-A, glorious chances. At the end of the day, we can sit here until we're blue in the face and talk about everything under the sun, but they found ways to score and we didn't."
After that first line, however, is where the BU offense has struggled mightily.
That much was evident on Saturday, as the bottom three lines had only 10 shots on goal. They were outshot by the Terriers' six defenseman, who totaled 11 shots on goal. Asked whether that was a worrisome statistic, Quinn again pointed out that the whole team did a lot of things right in the loss.
"I'd have to watch the film, maybe they missed the net a lot," Quinn said. "I thought all four lines had zone time and did a lot of good things. One line happened to hit the net more than the others."
Given the buzz surrounding the Terriers to start the season, a 6-4-1 record through 11 games falls short of expectations. Fortunately, BU will get the chance to get on the right track when it hosts No. 11 Harvard University on Tuesday.
The Terriers are in a rut now, but plenty of people around Hockey East expect the BU offense to find its footing, and that includes UConn head coach Mike Cavanaugh.
"That's a really good team," Cavanaugh said. "They're certainly going to make some noise in this league, they're very talented."