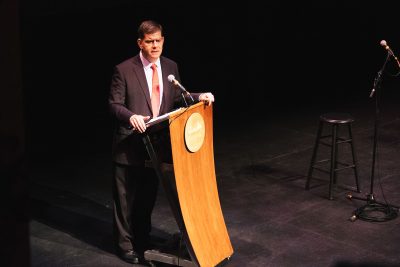 Over 600 people attended a town-hall style discussion on race relations at the Cutler Majestic Theatre on Saturday morning. Hosted by Boston Mayor Martin Walsh, the talk touched on prevalent racial issues and sought ways to curb them, according to a video from the event.
Walsh recalled at the beginning of his speech his days of mayoral campaigning, when he encountered a woman who asked him, "What's the state of racism in Boston today?"
"When you're running for mayor, you don't want to say bad things," Walsh said in the video. "You want to say good things."
In response to the woman's question, Walsh said he simply answered, "We're doing better today than we did before."  But the woman, Walsh said, continued on pressuring him about the diversity of his campaign.
"That night, I was upset. I was angry because I didn't have the right answer," Walsh said. "And we went back. I can't say 'We're better than we were.'"
From that point on, Walsh said, hosting racial discussions became one of his campaign's promises – and the Saturday morning talk is a manifestation of that, he said in the video.
James Rooney, the president and CEO of the Greater Boston Chamber of Commerce, said that the business community carries a responsibility to ameliorate racial strife and the economic gap.
"A recent report by the Brookings [Institution] and the Federal Reserve Bank ranked Boston as No. 1 in terms of economic inequality," Rooney said. "That's not the Boston that Marty Walsh wants to be a mayor of, and that's not the Boston that I want to be president of the chamber in."
Otis Rolley, the Africa and North America regional director of 100 Resilient Cities – of which Boston is a member – said in the video that dealing with racism is the key to achieving urban resilience.
"Racism may seem, to some, as an issue that exists in relative isolation from the rest of the city's problems; it does not," Rolley said. "It lies at the root of an effort to achieve true urban resilience in this city and elsewhere."
Nino Brown, an organizer for the Mass Action Against Police Brutality, said in an interview with The Daily Free Press after the event that Donald Trump's election to the presidency brings racism, sexism and bigotry into the seat of political power.
"The fact that this is happening in liberal Massachusetts shows that no state, no place, no inch on this nation is free from racism, sexism, Islamophobia, what have you," Brown said. "So we have to stop buying into the narrative that Massachusetts is somehow fundamentally different from the South or the Southwest."
Several Boston residents said the city should not be a home for racist attacks, and that Boston and Massachusetts officials need to step up legal measures to curb such crimes.
Leslie Quinn, 60, of Roslindale, said having open conversations is crucial to set differences aside and cool racial tensions down.
"There's concern for it; I think Trump is a bully," she said. "It's a going to be a test to see if the Constitution works and if the Bill of Rights works and all the work that's been done for the last 50 years."
Richard Michaud, 56, of Jamaica Plain, said he has seen city residents coming together in rallies to call for unity – a starting point to maintain a peaceful atmosphere in the city.
"Since the Trump election, I think a lot of people are showing their true colors for voting for the president in the first place," he said. "Everybody's kind of uncertain about what's going to happen. I just see a lot of people reacting to different situations."
Jeremiah O'Sullivan, 69, of the South End, said people who support the upcoming presidency seem to be benefiting off of the racial tensions.
"The reality is we have a new president who has been unpopular," he said. "The big fear is the undocumented because he's going to return three million. I don't agree – most of the undocumented are working, living good lives. They're not causing crime."