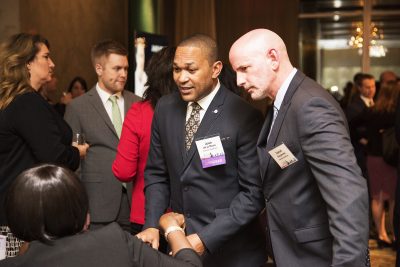 Frederica Williams was the only woman of color recognized by the Boston Business Journal as part of their 2015 Power 50 list celebrating "Influential Bostonians" in October of last year. She was among 11 total women on last year's list. On Thursday, Williams was recognized once again by the BBJ, this time joined by two other women of color. In total, 17 women were featured on the 2016 list.
This year's more diverse Power 50 list identified "The Game Changers" in the business field, ranging from an executive director who was a first-generation American, whose parents are from Jamaica, to a health care advocate born in Santo Domingo, to older officials whose job it is to integrate diversity into recruitment and conversations.
According to Williams, who makes "diversity part of the strategy" in her health care work as the CEO and president of Whittier Street Health Center, the BBJ did represent the city's progress this year.
"[Last year] reflects a problem within Boston for so many minorities, that aren't getting the same opportunities," Williams said. "However, business community is getting more diverse, and I think the editor did a fantastic job showing that."
Last year's list came with complaints and controversy, an aspect that the executive editor of BBJ, Douglas Banks, responded to with a degree of defensiveness, yet flexibility.
"There's a finite group of people who wield influence in the Boston business community, really," Banks said in an interview.
In an Oct. 27 article Banks wrote announcing this year's list, he wrote that the 2015 "list was accurate, highlighting the fact that power remains in the hands of a small group of historically privileged people."
At the same time, Banks and the BBJ team recognized that through Boston's history, "a diverse community can wield significant power in the face of the city's elite," according to the article. To show this, the team chose to create this year's list using a different methodology.
"So this year, we tried to broaden our definition of influence and impact," Banks said. "We went away from just recognizing big companies that have a big impact, and really thought about who is making a difference on a broader scale."
Additionally, the executive editor cited gender diversity as a key for this year's list.
Ebony Reed, the BBJ's executive advertising director, explained that the outlet's value of diversity is shown in more than just the Power 50 list. She mentioned Carolyn Jones, the market president and publisher of the BBJ, as one who has pushed for diversity at different levels of the organization. 
During the Power 50 event, there were no formal speeches or panels, but instead just three hours of energetic networking. Attendees were only distracted from their conversations by the served hors d'oeuvres, light jazz and a slide show of the "Game Changers."
Taking a break from the conversation and on his way to grab a bite, recognized game-changer William Maurice "Mo" Cowan shared his thoughts on being featured on this year's list.
"I give [the BBJ] credit, because there is a tremendous amount of diversity in Boston and in this room right now," said Cowan, the president and CEO of ML Strategies. "The real game-changers? These are people that have recognized diversity as part of the job and they've been ahead of the game for a while."
Cowan, a former United States Senator from Massachusetts, took a seat at a nearby table to continue the conversation. He disagreed that an active push for diversity leaves more deserving people out.
"It's about adding people and including people — diversity is not about exclusion," Cowan said. "It's always better to have diversity in the room, not for conversations but for debate."
William Bacic, the New England managing partner of Deloitte and Touche LLP, said he agreed that making diversity a standard is not about exclusion, but instead a step in the "right direction."
"For us [at Deloitte], diversity of thought is what drives value," Bacic said, who was hired by Deloitte right out of college and has been with the company for 38 years. "We want diversity to serve our customers … who are all diverse in their needs."
In addition to Deloitte, Bacic is currently chair of the Corporate Advisory Board of The Boston Club, a community that has spent the last 40 years advocating for women's leadership in the greater business community.
"Diversity is an evolution," Bacic said. "And this is the right direction."