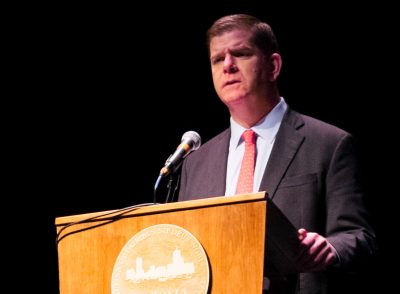 Mayors of 14 municipalities around Greater Boston signed a Climate Mitigation Commitment, which pledges that their communities will collaborate to halt the progress of climate change, according to a Thursday press release.
The mayors involved make up a group called the Metro Mayors Coalition, which was founded in 2001 by the Metropolitan Area Planning Council as "a voluntary forum where members exchange information and create solutions to common problems," according to the MAPC website.
Mayors from Boston, Braintree, Brookline, Cambridge, Chelsea, Everett, Malden, Melrose, Medford, Newton, Quincy, Revere, Somerville and Winthrop are represented on the coalition, according to the release.
Boston Mayor Martin Walsh said he was proud to join the coalition.
"As cities, our work together is mission critical to building healthy, resilient communities in the face of climate change and Boston is ready to carry the torch alongside our regional partners," Walsh said in the release.
Somerville Mayor Joseph Curtatone highlighted the importance of cities throughout the commonwealth working together to combat climate change.
"Even in the face of climate threats — and wavering national commitments — the future of our region is bright if we focus on preparing for change and moving toward clean, efficient development," Curtatone said in the release.
By 2020, every community will have to create or update their local climate plan and enact three of the mitigation actions put forward by the coalition, according to the commitment, and by 2050, the mayors plan to ensure that the Boston area will have net-zero carbon emissions.
Suggestions include expanding alternative transportation systems by creating bike-sharing and walking trails, installing solar panels and other renewable energy devices on all public buildings and expanding recycling programs, according to the commitment.
Chelsea City Manager Thomas Ambrosino said his community, as well as others around Boston, have reason to be concerned about climate change.
"In Chelsea, one of the critical vulnerable assets is the food distribution center, which services much of the Northeast United States," Ambrosino said. "That is a potentially vulnerable area because it sits in a low-lying area just adjacent to the Mystic River, and predictions from scientists are that, in the future, that area could be potentially be under water in the event of a significant storm."
In order to solve this problem, Ambrosino said the mayors in the coalition have promised to reduce their cities' carbon footprints.
"The mayors have agreed to a plan moving forward to try to reduce our carbon impact, and we've agreed to take some concrete steps in the next few years," Ambrosino said.
Several Boston residents said they support the coalition's ambitions to put a stop to climate change, despite reservations that the plan could be unrealistic.
Zachary Rothman, 26, of Kenmore, said while combating climate change is an important initiative, the mayors should set more reasonable goals for the near future.
"They should be accountable for updating their policies and … should set achievable goals for the near future," he said. "Reducing carbon emissions is very important … especially [in] Boston, a big city where there's a lot of cars [and] a lot of emissions."
Jeremy Rees, 26, of Fenway said he is skeptical of how successful the coalition will be, but he looks forward to seeing what it can accomplish.
"My initial thoughts are that I think it's ambitious," he said. "It's a good goal. I don't know how realistic that is, [but] I would love to see it happen on an accelerated timeline."
Christine Panzarella, 29, of Downtown Boston, said she thinks the coalition is a good idea, but questions how effective the cities will be in combating climate change.
"My first question is how are they going to enforce it, and then how are they going to measure their progress?" Panzarella said. "Again, that stuff sounds really vague and, while that sounds really great I don't know how that's going to happen, and then what money is going to go towards fixing that issue."