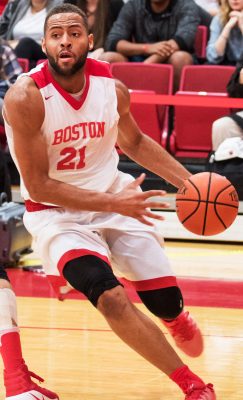 The Boston University men's basketball team will look to stay hot following their undefeated run in the Steve Wright Classic at Case Gym with an upcoming home matchup against Western New England University on Tuesday.
In the inaugural event over the weekend, BU (3-1) dominated Long Island University Brooklyn and the University of Maine, while barely squeaking out a victory against familiar foe Northeastern University.
"I was pleased overall," said BU head coach Joe Jones. "I thought our guys played pretty hard. I thought they played together, particularly Friday night. They showed a lot of resolve and mental toughness to come back like we did."
Now, the Terriers will turn the focus to their Tuesday matchup with Western New England (1-2), a Division III school located in Springfield. This is the only game against a Division III opponent the Terriers will play this season.
While the Terriers are expected to be heavy favorites in the matchup, Jones stressed that his team cannot get complacent and overlook its opponent.
"It gives you an opportunity to work on some things," Jones said. "It gives you an opportunity to play some other guys and gives those kids at Western New England an opportunity to play a Division I team. I think it's very good for basketball kids to have that chance."
The Terriers will have their hands full though, as the Golden Bears boast an experienced roster that includes some budding stars.
Four of the Golden Bears' six top scorers are underclassmen, and sophomore Mikey Pettway leads the team in scoring, averaging 14 points per game. Pettway is the leader of a high-scoring backcourt for Western New England, as he is complimented by the play of senior Mike Gelineau and forward Daniel Silva.
While guarding this dynamic offense is no easy task, Jones is confident that his team will play with pride on the defensive end.
"I hope the guys are ready to defend," Jones said. "That has to be what we hang our hats on, so it's good that they have a good point guard that's quick because we really need to continue to work on that. That's an area of concern for us. We need to guard quick kids that can get in the lane."
Meanwhile, BU has its own lethal backcourt that can give the Golden Bears fits. Senior guard Eric Fanning and junior guard Cedric Hankerson emerged as BU's most potent offensive weapons over the weekend. The duo led BU in scoring in two out of the three games played this weekend, with junior guard Cheddi Mosely also making significant contributions.
Jones said he is happy to see the wealth being spread among the backcourt, and hopes this unselfishness will continue throughout a long regular season, he said.
"I think they're playing very well," Jones said. "I was pleased with how they shared the ball with one another. If we can be the kind of team where everybody is selfless, that's a start. If we're a selfless group playing for one another, I think our chances are pretty good."
Playing against an opponent that is a notch below their usual competition provides BU the chance to empty the bench and give playing time to some of the younger players.
In the Terriers' win over Maine (1-3), freshman forwards Tyler Scanlon and Max Mahoney played double digit minutes, as did freshman guard Destin Barnes. All three rookies were productive in their time on the court, as Scanlon led the way with 15 points.
It was not only freshmen who got to see some extra playing time. Junior forward Nick Havener and senior center Blaise Mbargorba both saw extended playing time in the Terriers win over LIU Brooklyn.
Jones said he hopes that Tuesday will be another opportunity for him to turn his bench loose and see what players step up.
"We've got a lot of guys so there may be some that may or may not play; I haven't decided," Jones said. "Some guys that logged in minutes over the past weekend, you know this is the fourth game in five days. Hopefully this could be a game where you'll see a lot of guys get time."