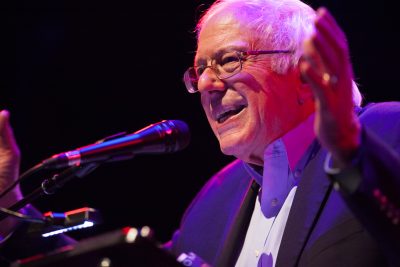 A crowd of almost 500 gathered in the Berklee Performance Center Sunday night to listen to Vermont Sen. Bernie Sanders address the current state of American politics and speak about his newly published book, "Our Revolution: A Future to Believe In."
Sanders, who had the crowd cheering throughout the event, opened with scathing comments about President-elect Donald Trump.
"There is a lot of racism in this country. There is a lot of sexism, a lot of homophobia," he said. "I don't have to explain to anybody here the racist background of Mr. Trump … I don't have to tell anybody here about the slurs, the awful things he has said about Mexicans … Muslim people … and obviously … his attitude towards women."
Sanders urged his audience to unite in order to resist bigotry.
"When we bring millions of people together, here in the wealthiest country in the history of the world, when we do that, there is nothing we cannot accomplish," he said, acknowledging cheers of affirmation from the audience.
Sanders highlighted the plight of the middle class in America, a problem he frequently spoke about on the campaign trail.
"For 40 years, the middle class of this country has been in decline," he said. "You see enormous pain and confusion as to why the people on top make huge amounts of money, while the middle class continues to shrink, and 43 million Americans live in poverty."
Sanders later joked about the word "huge," jabbing at Trump for his frequent use and unorthodox pronunciation of the word.
Calling out to those with progressive values in the audience, Sanders encouraged them to stand up to the establishment in order to reform it in a positive way.
"The idea that somebody like a Donald Trump could pose as the anti-establishment candidate, could pose as the candidate of change, would be laughable if the consequences were not so dire," he said.
Sanders touched on issues of fair wages, drug abuse and climate change on a national and international scale before transitioning to topics covered in his book.
In a critique of corporate media, something he dedicated an entire chapter of his book to, Sanders blamed media conglomerates in part for Trump's win, accusing them of focusing too much on making money and not enough on covering the issues people care about.
"The media talks about everything except the most important issues facing the American people," he said, accepting yet another round of applause.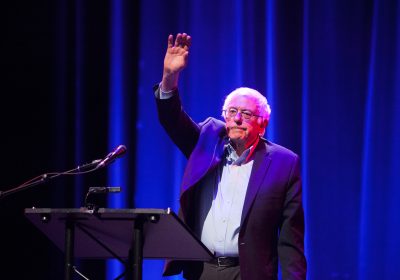 The senator went on to call for the public funding of elections.
"Is it appropriate that millionaires can buy elections?" he asked. "No," the crowd shouted in response.
After offering suggestions as to how to improve the American criminal justice and immigration systems, Sanders answered questions from the audience with a lighter, yet still impassioned, voice.
"I am Larry David," he said in response to a question about his shocking resemblance to the comedian, sending the crowd into fits of laughter. "Sanders was busy tonight, he had to be in Washington. I came instead."
Sanders concluded by paraphrasing a quote from Martin Luther King Jr., promoting the idea of acceptance and unity.
"All of us remember what Dr. Martin Luther King Jr. said, that our job is to judge people not by the color of their skin, or the country they came from, or what they wear on their hair, our job is to judge people by their character as human beings," he said. "We have come too far to go backwards to that kind of hatred."
Several attendees said they appreciated being able to hear Sanders' motivational comments in person, especially in wake of the election.
Sarah Alli and Anthony Betances, both seniors at Emerson College, said they are regular followers of activists and they jumped at the opportunity to attend Sanders' speech.
"We haven't been to anything since Donald Trump was elected, and I think the inspiration was much needed," Alli said. "People are at a point where we're riled up and we want to fight, but we don't really know what to do, and Bernie offers that kind of guidance."
"It's a nice bit of closure after such a long and daunting election cycle, and one that ended very toxically," Betances added.
Lee Collins, 57, of Wellesley, a staunch Sanders supporter, said after organizing canvassing events in her town during Sanders' campaign, she could not resist the opportunity to travel to Boston to hear him speak.
"He is the most inspiring politician I have encountered in my life," she said.