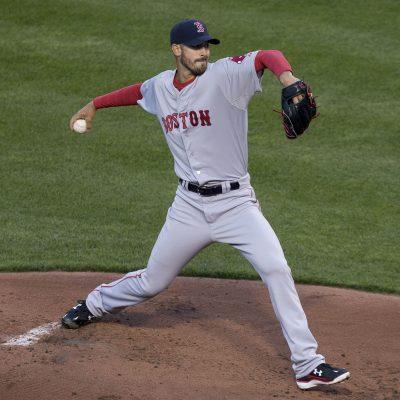 The Boston Red Sox certainly have a lot to address.
After going from worst to first in the AL East this year, the Red Sox made an early exit from the postseason after an ALDS loss to the Cleveland Indians, this year's World Series runner-ups. All the holes that President of Baseball Operations Dave Dombrowski and his staff worried about — inexperience, starting pitching and the bullpen — came to fruition when it mattered most.
So the question now is, where do they go from here?
With David Ortiz officially retired, there's a big hole to fill in the lineup. Part of filling that void might mean the return of oft-criticized Instagrammer Pablo Sandoval, or adding a bat. Edwin Encarnación and Carlos Beltrán have both been linked to Boston, but there are also internal options.
Twenty-three-year-old prospect Sam Travis is coming off a torn ACL, but should be back in time for spring training. There is some speculation that a strong preseason could earn the first baseman at least a look at the big league roster.
A combination of Brock Holt, Hanley Ramírez, Sandoval and Travis Shaw might be enough to fill the corner infield positions and DH spots. This quartet would provide at least a balanced amount of hitting from both sides of the plate.
What the Red Sox really need to look for in free agency is pitching, though.
Greg Holland, who has closed for the Kansas City Royals, is the one name that the Sox should consider. Holland would be a solid addition, but the potential loss of Koji Uehara and a declining Junichi Tazawa might warrant Sox brass to do more in the bullpen.
Three big closers (Mark Melancon, Kenley Jansen, and Aroldis Chapman) are available, but with Craig Kimbrel set to stay in the mix, there's no sense in going after any of them. Instead, the Red Sox might focus their efforts on Ryan Webb, Drew Storen, Matt Belisle or Neftali Feliz.
Perhaps one of the most significant upgrades to the team's pen will be from someone who is already on the roster. Reliever Carson Smith, who is coming off Tommy John surgery from May, is set to return. If healthy, expect him to make great contributions next season.
The starting pitching side becomes a bit more difficult. Jeremy Hellickson is already off the board, and he would have been a good target for the team to go after. The remaining candidates are Brett Anderson, Rich Hill, Doug Fister and C.J. Wilson. Though Hill in a Boston return could be enticing, none of the four options are particularly lethal pitching arms.
Of course, the Red Sox could make a trade as well, but that market is just as weak. Boston's inability to develop pitching talent has proven costly over the past few seasons, and now the team is left with a shaky staff despite being led by unexpected Cy Young Award winner Rick Porcello.
The new CBA is slated to be set by Dec. 1, and the Red Sox may not act until then. When they do, there are holes to fill, and they'll have to get creative if they hope to find themselves back in the mix come October 2017.