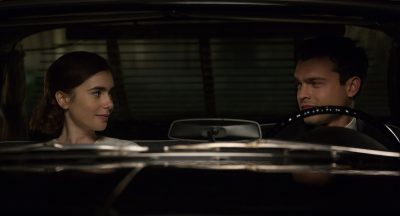 It seems as if every figurehead of the film industry has tackled "old Hollywood" over the last few years. From the jaunty Woody Allen production of "Café Society" to the Oscar-winning "The Artist," films reminiscing show business are so abundant they could be their own genre.
"Rules Don't Apply," released Wednesday, stars Lily Collins, Alden Ehrenreich and Warren Beatty. The film finds itself settled in the confines of this niche, and there's a vague feeling that audiences are seeing more of the same because the film has no unique twist to set it apart.  
The film focuses on two fresh faces in Hollywood who are looking to get their start in one of the major industries of the late 1950s: Marla Mabrey (Collins), an aspiring, innocent actress, and Frank Forbes (Ehrenreich), who wants to make his mark with a housing project. Under the supervision of an enigmatic and kooky Howard Hughes (Beatty), Frank serves as a driver for Marla, with the hopes that his driving will give him the needed connections to develop his housing ideas, but it offers a different degree of connections as well.
The two quickly form a platonic relationship with the possibility of romance, but a standard rule inhibits them: no relationships are permitted between subordinates of Hughes. The majority of the plot — which takes place over the course of several thematic years and spans just over two theatric hours — is centered on the potential of a relationship between Frank and Marla, a "will they or won't they?" situation.  
The plot is standard. A potential couple encounters several obstacles that may obstruct or terminate the relationship. Nevertheless, there is some nuance in "Rules Don't Apply" that makes it pleasant and worthwhile. The characters are, while not wildly imaginative, unique with distinctive quirks, and the articulate banter that bounces off each character offers a delightful accent to an otherwise average movie.
In Marla, a devout Baptist, there is a stark absence of the typical "skeletons in the closet" one might expect to see in a young Hollywood starlet. Forbes, an equally religious Methodist, has a similar background, and the pair's strong religious beliefs create a saccharine dynamic of purity.
It is the unusually clean slates of both parties that permit the film to feel scandalous with little sexuality, making for a welcome change from the lust of raw physical attraction that accompanies so many films.
Hughes is another element entirely, with such an abundance of peculiarities that it feels he is the amalgamation of every fictionalized aloof bigwig to ever grace the silver screen. So unusual is the character that it feels, at times, as if the relationship between Forbes and Mabrey is simply a subplot designed to further contrast the eccentricity of the infamous Howard Hughes.
Beatty makes a smooth return to acting in the role. With him dominating almost every scene, it would be almost too facile to presume that Mabrey and Forbes serve as nothing more than character foils to the grandeur of a such a bizarre man.
Every role, major and minor, is expertly played by some of film and television's greatest. The celebrity appearances serve as entertainment and a source of curiosity, as a new face can appear even three quarters of the way into the film.
There is no question that the acting is well done by all parties, highlighted by a standout performance from Collins. She manages to gracefully evolve Marla's character, showing her emergence as a confident and independent young woman. Unlike a lusty and sexualized approach to a woman's maturity, Marla's evolution is carried with surprising ease from an actress who has, until this point, had few roles outside of the fantasy film genre.
Ehrenreich is no novice to the old Hollywood satire subset, having played a lighthearted role in Ethan and Joel Coens' jaunty production of "Hail, Caesar!" Although the roles are distinguished, they are a bit one and the same as he struggles to make a departure from his initial characteristics and remains, in both films, the one simultaneously amazed and frustrated by the industry. The acting is strong, no doubt, but it lacks the evolution or devolution seen in Beatty's and Collins' characters.
Arguably the most enchanting feature of the movie is the soundtrack, abundant with big-band classics and upbeat musical romps, accented by an original song sharing the title of "Rules Don't Apply." The classicality of the music paints another layer of nostalgia on the film, and amid wide shots of the San Bernardino Mountains and long glances down Hollywood Boulevard, it's hard not to get wrapped up in the theatricality.
"Rules Don't Apply" isn't necessarily unique, startling or electrifying, but its nostalgia and ability to transport viewers to another era makes it a pleasant watch apt for a rainy afternoon or a relaxing evening.