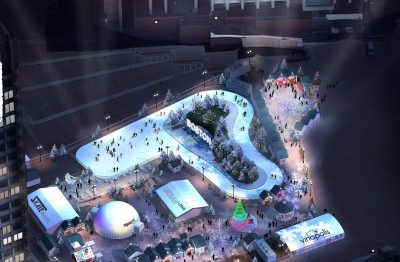 In 1962, Boston City Hall Plaza was designed in accompaniment with the new City Hall building located in the heart of Downtown Boston. For over 50 years, the brick-laid plaza has served as a multipurpose venue for events such as the Forbes Under 30 Summit or Boston Calling Music Festival.
However, as of September 2016, the City of Boston has decided it's time for a well-deserved facelift, according to a press release by TD Garden.
"Boston Seasons will bring the space to life," said Heidi Higgins, the assistant vice president and marketing officer for Berkshire Bank, a sponsor of the revitalization project.
Boston Seasons, opening Friday, is a year-round project "in place to revitalize City Hall Plaza," according to the Facebook page for the plaza.
"Life is exciting. Let us help," Higgins said.
According to a press release from the city, the plaza currently "consists of over 200,000 square feet of contiguous, solid-surface open space," with great potential for visual appeal and public attraction. As the buildings and facilities surrounding the area are renovated and modernized — work on a completely redesigned Government Center Station concluded this March — City Hall Plaza is the next step.
Berkshire Bank will sponsor several attractions in this new initiative. The first phase of the project, "Boston Winter presented by Berkshire Bank," is complete with an 11,000-square-foot custom skating path, a 40-chalet holiday shopping market and a pedal-powered holiday tree.
Open seven days a week, the winter garden is set to "provide a setting to bring together business and community," Higgins said.
While Berkshire Bank is funding the project, the innovative design of "Boston Winter," and subsequently all other Boston Seasons renovations, can be attributed to Boston Garden Development Corporation.
As the imagination behind the revitalization, BGDC hired an independent consultant to manage and create programming for the space, according to Glen Thornborough, the senior vice president of marketing and sales of TD Garden.
There was a comprehensive research process behind the design proposal for the park, including an extensive site visit to several other projects across the United States, according to Thornborough.
"Jen Compton, our vice president of brand and innovation, and I did a whirlwind tour of other major cities that have unique and successful spaces similar to Boston's City Hall Plaza," Thornborough said. "We took the best concepts and applied them to the city's vision of a vibrant, communal space."
Noting there are chances to create lasting memories and impact the Greater Boston community, Thornborough said the project is intended to bring "excitement back into the heart of the city."
For many residents, including Jack Schuleman, a senior in the Boston University College of Communication, this project was a long time coming.
"All of Boston's urban renewal in the '50s and '60s was horrific," Schuleman said. "I think that the project they're doing now is good in humanizing [City Hall Plaza]. [It is] in a great location, but its scale too vastly large for people to feel comfortable and the materials too inorganic to feel homey."