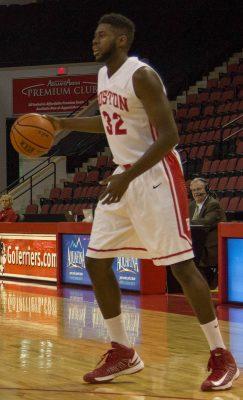 The Boston University men's basketball team will look for its first road victory of the season when it takes on the University of Connecticut Wednesday night at the XL Center in Hartford.
Each team enters the game coming off a loss, as the Terriers (4-2) fell to Saint Peter's University Monday night and the Huskies (2-4) lost to the University of Oregon last Wednesday.
Prior to Monday's loss, BU won four games in a row, including a three-game sweep at the inaugural Steve Wright Classic at Case Gym.
BU head coach Joe Jones attributed his team's success to its heart and resiliency.
"I thought we had a good weekend last weekend," Jones said. "We showed a lot of toughness and togetherness. We had a lot of different guys step up in big moments."
On the other side, the Huskies are off to their worst six-game start in 30 years, dating back to the 1986-87 season, when they started 3-3.
UConn's slow start can be attributed to the departure of seven players from the 2015-16 squad that went 25-11.
The Huskies lost major production from Daniel Hamilton, Shonn Miller and Sterling Gibbs, who all averaged more than 12 points per game last year. Hamilton now plays in the NBA D-League, while Miller and Gibbs graduated.
The lone bright spot for the Huskies thus far has been guard Jalen Adams, who is averaging 19.8 points, 5.7 assists and five rebounds per game. Jones admitted his team won't be able to completely neutralize Adams, but said they must clog the paint to prevent any easy scoring opportunities.
"The thing with [Adams] is we're never going to stop him," Jones said. "We have to make it hard for him because he's a terrific player. The key is to stop him from getting into the lane because once he gets into the lane, it opens up everything for their offense."
The Huskies' season took another hit Tuesday, when three players suffered season-ending injuries.
Terry Larrier, who transferred from Virginia Commonwealth University and averaged 13.5 points per game, tore his ACL last Monday after starting in the first four games. Freshman Alterique Gilbert (10.3 points per game) dislocated his left shoulder on Nov. 17 and it was later announced that he would miss the rest of the season with a torn labrum.
In addition, freshman Mamadou Diarra was declared out with patellofemoral syndrome in his knees. He had yet to appear in a game, but was a four-star recruit out of high school.
Unlike UConn, staying healthy has not been an issue for BU this season. Last year, the Terriers went 19-15 and hovered around .500 for the majority of it, but were hindered by injuries.
Two of its leading scorers this season, senior guard Eric Fanning (13.8 points per game) and junior guard Cedric Hankerson (9.4 points per game), missed time in the 2015-16 season.
Last season, Hankerson played just one game and Fanning missed the first six games. Senior forward Justin Alston played the first eight games before missing the rest of the campaign.
The two teams last met in the 2013-14 season when the Terriers visited the Huskies. UConn won that matchup 77-60, led by DeAndre Daniels (24 points), Shabazz Napier (12 points) and Ryan Boatright (16 points).
Although the Terriers have started the season well, Jones wants his team to play with a more focused mindset Wednesday night.
"We have got to come out with a different level of toughness," Jones said. "We have to be much smarter and tougher in every sense of the word. We have to be better from the start and play consistently throughout the game."