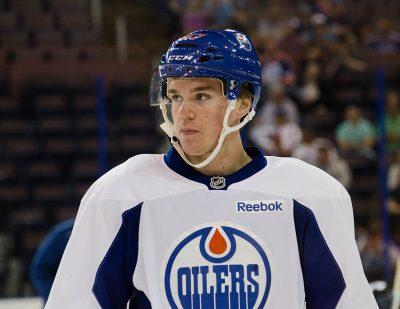 Across the continent, hockey headlines are dominated by names like Patrick Kane, Connor McDavid and Jack Eichel.
And while the path to the Stanley Cup usually features the leadership of a few grizzled veterans, the league has been revolutionized by the finesse-style play of its many up-and-coming stars.
The first wave of this new generation of superstars came in the late 2000s as players like Kane, Steven Stamkos and Evgeni Malkin broke onto the scene and began transforming the NHL.
With this new crop of toe-draggers shifting to the forefront of hockey, the game began an irreversible shift away from the heavy-checking days of Scott Stevens and Chris Pronger.
Soon after, teams began to notice the impact these fresh faces were having on struggling franchises.
Teams like the Chicago Blackhawks and the Pittsburgh Penguins — both of whom had struggled for the better part of the decade — began to contend and eventually capture multiple titles.
This success set the stage for players like Jonathan Tavares, Tyler Seguin and Ryan Nugent-Hopkins to break into the league with a full head of steam.
Currently, Seguin is tied for fourth in the NHL in points as the 2010 second overall draft pick has exploded offensively since his trade from the Boston Bruins to the Dallas Stars.
While Tavares has yet to bring home hardware, the 26-year-old has already been named an All-Star two times while bringing the New York Islanders back out of obscurity and into playoff contention.
Once the face of the struggling Oilers, Nugent-Hopkins has taken a bit of a back seat to phenom McDavid.
However, Nugent-Hopkins' first six seasons have seen him break the 50-point barrier three times, while finishing second in voting for the Calder Memorial Trophy in 2012 as an 18-year-old.
Now a new wave of young talent has come to the NHL in the form of McDavid, Auston Matthews and Patrik Laine.
After a season in which he was limited to 45 games due to a clavicle injury, McDavid has been on a tear this year. Named the second-youngest captain in NHL history earlier this offseason, McDavid currently leads the league in points (29) and assists (19).
Similarly, McDavid began his career by scoring early and often before his collarbone injury stole the remainder of his rookie campaign.
Matthews has also been the beneficiary of a hot start to his NHL career. A 6-foot-3 center from Scottsdale, Arizona, Matthews has adapted well to his new home in Toronto. In his first professional game for the Maple Leafs, Matthews netted a record four goals. Combining with fellow rookie Mitchell Marner, Matthews has the ability to bring Toronto out from the dregs of the league into playoff contention.
Flying under the radar largely in part to the highly-touted Matthews, Patrick Laine has been one of the league's premier players with the Winnipeg Jets.
Laine is currently tied for third in goals with 12 — sitting just a goal behind Bruins young prospect David Pastrnak.
With the influx of quick and nimble players like Mark Messier and Paul Kariya in the late '90s, hockey changed. With crafty forwards clashing with big-bodied defensemen like Scott Niedermayer, hockey entered an age of brute physicality.
Players like Joe Sakic made their earnings off of quick playmaking and a focus on skills while others like Brett Hull and Nicklas Lidstrom earned their keep by punishing their adversaries.
Now hockey again is in the midst of a cultural change. Gone are the days of Pronger and Tie Domi repeatedly bashing their opponents, wearing them down hit by hit.
In their place are P.K. Subban and Max Domi, who use a combination of speed, hands and hockey sense to carve up opposing defenses and slot home highlight reel scores.
While the game has moved away from the captivating physicality that many young hockey fans have grown accustomed to, a new focus on finesse has captured the attention of many.
These toe-drags and absurd dekes have begun a circular cycle in which kids grow up idolizing the skills of players like Kane and Sidney Crosby.
With this idolization comes imitation, paving the way for more young stars like Matthews and Laine to break into the big leagues with a flair for hands, not hits.