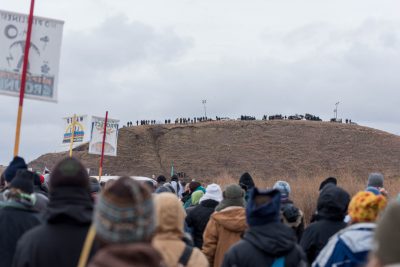 Instead of going home for Thanksgiving, a group of 13 Northeastern University students traveled to North Dakota to participate in the protests at the Standing Rock Sioux reservation, according to Austin Williams, a DivestNU co-founder.  
DivestNU, a coalition dedicated to campaigning for Northeastern to divest from fossil fuels, planned the trip to lend its support in the fight against the Dakota Access Pipeline, according to Williams, a senior at Northeastern.
"It was really unlike anything I've seen before, and … it was really powerful for us to be there and to understand that indigenous people are already dealing with the consequences of fossil fuel-based infrastructures," Williams said.
The group, working with the Oceti Sakowin north of Cannonball River at one of the largest camps at Standing Rock, participated in the action with almost 10,000 other activists and indigenous people, Williams said.
"The days really just sort of consisted from moving from task to task supporting the community," Williams said.
For the three days they spent at the camp, Williams said, the Northeastern students followed directions from tribe members, waking up at sunrise to participate in morning prayers, then going directly to their assigned jobs.
Nick Boyd, one of the DivestNU members who traveled to North Dakota, said he worked at one of the camp's 10 mess halls and felt he played an important role in the protests.
"We did things that were more support roles so that the indigenous people could focus on engaging in direct action as much as possible," the sophomore at Northeastern said.
In addition to preparing food for the camp, Boyd said, he was most touched by the prayer circle he participated in on his last day at Standing Rock.
"I felt like that was really important because so much of their [indigenous people's] motivation is spiritual, and that's something I've never really thought about before, never really connected with," Boyd said.
Williams agreed the prayers were memorable, but he was most impressed by how well-organized the camp was.
"What really stood out to us was how organically the camp functioned," Williams said. "It's really amazing what the Standing Rock Tribe and their allies have done."
Williams said communicating with the other members of the camp was the students' priority, but working among themselves to be self-sufficient was also their goal.
"Our campsite with our two tents and our van was sort of a central hub for us to come back and restock on supplies, cook meals for our own members because we were attempting to be as self-sufficient as possible while there," Williams said.
Since coming back from Standing Rock Sunday night, Williams said the group hopes to spread stories of the reservation in order to facilitate conversations about the pipeline.
"People were focused on the election, and unfortunately there's been a lack of mainstream media coverage because of our hyper focus on the election," Williams said. "Even since the election's conclusion when this violence has escalated, still the primary source for people to connect with this has been through social media."
Williams said even though Boston residents might not feel directly affected by the construction of the pipeline, they should still try to relate to the indigenous people at Standing Rock.
"If you wouldn't be okay with a pipeline being constructed through Arlington Cemetery, you really shouldn't be OK with what's happening to the Standing Rock nations right now," Williams said.
Williams said college students have the power to be particularly influential in protecting the sovereignty of indigenous nations and the reversal of climate change.
"For college students who care about issues like climate change, it's really important that they don't turn a blind eye to what's happening and that we stand with our native brothers and sisters who are dealing with this conflict right now," Williams said.