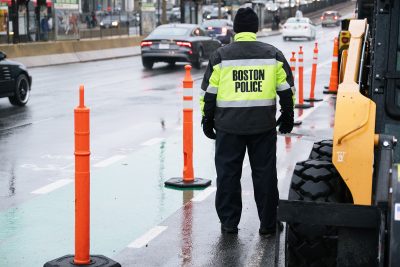 The Boston Police Department is considering implementing software which would scan public social media data for threats to public safety, according to a statement from the BPD.
The program has a proposed a budget of $1.4 million, according to Kade Crockford, director of the Technology for Liberty Program at the American Civil Liberties Union of Massachusetts.
Such a tool would help prevent crimes such as "gang violence, drug crime, prostitution, and terrorism [which are being coordinated and conducted on the internet]", according to the BPD's statement.
"The technology will be used in accordance to strict policies and procedures and within the parameters of state and federal laws," spokesperson Lt. Detective Michael McCarthy said in the statement. "The information looked at is only what is already publicly available."
The BPD is not the only police department that found such software useful in law enforcement — the Baltimore County Police Department used Geofeedia, a social media scanning service, as a law enforcement tool in the past.
Elise Armacost, the director of public affairs for the BCPD, said the software, which cost $20,000 per year, was recently discontinued within the department after major social media platforms, including Twitter, stopped providing Geofeedia with data.
"We regret the loss of this useful law enforcement tool," Armacost said. "Geofeedia allowed us to view open source information specific to keywords such as gun, school or clown and a specific geographic area."
Armacost said the software only accessed public posts, and the detectives who used the software still obeyed the constitutionally mandated court and subpoena process.
"It is essential that you note that information observed via Geofeedia was information left public by the sender," Armacost said. "Geofeedia cannot collect information on social media posts marked private. There is no difference between a detective who reads someone's open source tweets and detective who hears someone say something on an incident scene."
Crockford said the ACLU has deep concerns with this new technology because the use of social media police scanners interferes with civil liberties and freedom of speech.
"People shouldn't have to worry that cops are watching over their shoulder as they express their First Amendment rights on the internet," Crockford said.
Crockford said there is a high probability that the technology will be abused.
"Police shouldn't spy on or create associational dossiers about people who are criticizing the government or organizing for a better world," Crockford said. "Unfortunately, that's likely to happen if BPD goes through with this plan."
Tracey Maclin, a law professor at Boston University, commented on the issue with a legal perspective appealing to the Constitution.
"The government is certainly free to examine and review, and frankly catalogue, any information that you or I or any third party puts out publicly," Maclin said. "So as a matter of Fourth Amendment law — that's the search and seizure provision of the constitution — they're not violating anybody's privacy if they are simply looking at information that is available to the public or to third parties."
Maclin said with regard to the Constitution, such software would not legally infringe on the freedom of speech.
"As far as free speech is concerned … nobody's preventing anybody on Facebook or any other social media outlet to say whatever it is they're saying," Maclin said. "If you or I stood out on the street corner and gave a speech about bombs, the BPD would certainly be free to listen to the speech and then write down what we're saying, and then utilize it for investigative purposes."
Several Boston residents expressed concern over the program.
Michael Albro, 35, of Back Bay, said that police do not possess the authority to access the social media accounts of individuals, and that this is an overuse of their power.
"That's a terrible idea, and it's a terrible infringement on our civil liberties," Albro said. "It's disturbing."
Aurelie Edwards, 47, of the North End, said although she is not on social media, she is concerned for her sons and the invasion of privacy the measure might pose to them.
"[The program] will probably be helpful for terrorism, but I'm more concerned about privacy," Edwards said. "As a matter of principle, I don't think that they should be having access to all that information without consent."
Molly Ezzell, 26, of Allston, said people should be wary about the line between public and private information.
"In this day and age people are always on their phones, and it's really hard to say what is private and what is not anymore," Ezzell said. "So I think we just have to figure out where the line is, because we're sending it through all these carriers, and we don't really own what we're sending."