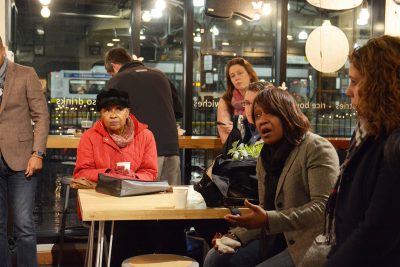 By Nathan Bindseil and Andres Picon
Imagine Boston 2030, a weeklong series of tours and panels that allow residents to learn more about the City's major initiatives from city leaders, launched Wednesday.
Imagine Boston 2030 aims to "create a framework to guide the preservation, enhancement, and responsible growth of our city between now and 2030, with input from the public," according to a Nov. 21 press release from Boston Mayor Martin Walsh's office.
Boston residents and city officials involved in the Imagine Boston 2030 initiative gathered Wednesday afternoon at Hibernian Hall for a walking tour of Dudley Square to learn what organizers had planned for the future of the City and the community of Roxbury.
Rebekah Emanuel, the executive director of Imagine Boston 2030, said ordinary citizens have shaped the movement.
"This is very much a plan of the people, by the people, for the people," Emanuel said at the launch. "We've talked to over 12,000 different residents about what they see as the top priorities as Boston grows, and we also looked at the big trends that are shaping Boston."
Emanuel said the tour is an opportunity to "take things from the page and feel like they're actually coming to life."
The tour stopped at sites including the Dudley Branch of the Boston Public Library and Justice Edward O. Gourdin Veterans' Memorial Park before finish at Dudley Cafe.
Each stop highlighted a specific issue that the Imagine Boston 2030 plan was going to focus on.
During the tour, Natalia Urtubey, the director of engagement for Imagine Boston 2030, talked about the importance of improving funding in growing communities.
"Through our research, we found that 95 percent of Bostonians are within a five-minute walking distance to a park, library or a community center," she said. "That is obviously a huge investment opportunity for the city."
Citizens who attended the tour expressed different opinions about the Imagine Boston 2030's plan and what areas they would like the City to focus its efforts on.
Frederick Fairfield, 75, of Canton, said she was concerned about how this initiative could potentially rising the cost of rent.
"One of the things we want taken care of is the people living here, that they just don't get displaced because they can't afford the new rents," Fairfield said. "If we can't bring in new housing with a mix of tenants, we can't afford to upgrade the area."
Kristine Acevedo, 45, of Dorchester, said she was impressed with the language of the plan, but she wanted to make sure the City can put its proposal into action.
"There's still a lot that's still up in the air and there are certain things that, whether or not it actually goes forward into fruition, have yet to be seen," Acevedo said. "Ideas are great, but if they're just ideas and they don't go anywhere, then obviously this is just all for naught."
After the tour, Imagine Boston 2030 continued in the evening with a panel discussion about education and career development.
Approximately 20 people attended the discussion and shared their ideas for improving the education system in Boston.
Urtubey said the main goal of the discussion is to find ways to make education available and effective for everyone.
"This particular conversation and everything that we talk about in education isn't just about [Boston Public Schools]," Urtubey said. "We're also talking about any children in the City of Boston, and we want to make sure that they have access to the right opportunities and access to education."
Turahn Dorsey, the chief of education of BPS, spoke on the panel and emphasized the need to eliminate the achievement gap between different groups of students with different racial and socioeconomic backgrounds.
"We should consider that even though school is critical, critical stages of learning happen before kindergarten entry," Dorsey said. "You can see significant achievement gaps by race and gender by age two."
Several attendees of the talk shared their hopes and concerns for the future of education in the city.
Clare Shepherd, 61, of Dorchester, said one of the biggest issues in the education system is the lack of apprenticeship opportunities for students.
"I think that people just don't understand what apprenticeship is and that it is learning both classroom-based and hands-on, but earning money while you're learning and earning college credit while you're learning," she said.
Sheila Peterson, 61, of Foxborough, said hands-on career experience is essential to a complete education.
"Career experience helps to put a student's education in context, and it also extends the educational learning experience to skills you can't get in the classroom," said Peterson. "You really need the two together to really get a holistic education."