PROVIDENCE – Depth is a precious commodity in college hockey, especially across a grueling 30-plus game campaign. It's a blunt fact the No. 6 Boston University men's hockey team has become closely acquainted all autumn, and the storyline was no different on Friday night.
Pegged against Providence College in the hostile confines of Schneider Arena, head coach David Quinn's side required gut-wrenching efforts from every player and then some. Sure the final scoreline was 2-1 and brought about BU's fourth win in its last five games, but getting there was no walk in the park.
"Our team really, in my opinion, took a beating tonight," said junior assistant captain Nikolas Olsson, who bagged the game-winning goal. "We didn't come out the way we should have, but we stayed resilient, we played hard in our own end, we let up a lot of chances unfortunately, but our depth was tested. We did a good job coming out with the win when it was kind of against us."
What marked the biggest obstacle, perhaps, was that BU was playing without four forwards who are virtually guaranteed to be in the lineup every weekend.
On the injury front, freshman Clayton Keller and senior Tommy Kelley missed out through lower-body knocks. Then there's sophomore Jordan Greenway who was benched for disciplinary reasons, and senior Nick Roberto who was handed a game misconduct 8:16 into the first period.
Add up their contributions and the Terriers were without 30 points from their first 12 games of the year, hardly a total to shrug off.
"Listen, no one is feeling sorry for us," Quinn said. "That's hockey and guys get hurt. We still have plenty of good players who are healthy, we just had a lot of key guys not have great nights tonight."
As if that sizable hurdle wasn't enough, BU shot itself in the foot in the first period to the tune of 21 penalty minutes. Matters eased some in the second and third frames, with the Terriers largely staying out of the sin bin. Still, Quinn's side was hemmed in its zone for extended periods of time, causing forwards and defenseman to routinely appear with hands on hips, gasping for air.
That wasn't a deterrent, however, to freshman goaltender Jake Oettinger, the night's first star.
"It shows the grittiness and determination that our team had and we were desperate," Oettinger, who finished with 38 saves, said. "It showed tonight. The best thing about great teams is they find ways to win when they don't play their best game, and I think we did that tonight. I think it shows a lot about our character and the type of the guys we have in the locker room."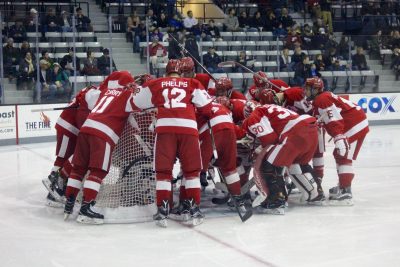 While Olsson, Oettinger and sophomore assistant captain Jakob Forsbacka Karlsson, who bagged BU's first tally, stood out, Quinn pressed a constant theme in his postgame press conference. He stressed that his Terriers played their most defensive game of the 2016-17 season, and that sometimes the bounces, even if undeserved, fall your way.
That argument had some merit, as the Friars (5-6-2, 1-4-1 Hockey East) were all over the Terriers, save for when goaltender Hayden Hawkey was beaten twice in the second frame. Otherwise, BU had to grind out two points in conference play when its backs were against the wall.
"The guys that aren't playing right now are a huge part of our team, and we obviously we miss them," Oettinger said. "But it shows a lot about our team and coach always says that every guy in the locker room needs to be ready to play when his name is called."
The chance to do just that comes quickly, as BU and the Friars face off on Saturday night at Agganis Arena to close out the weekend set.