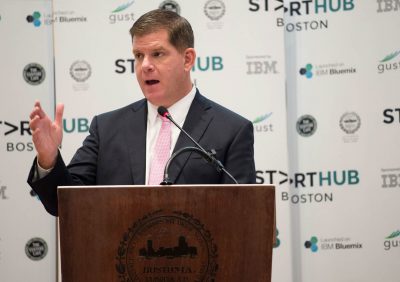 Boston Mayor Martin Walsh announced through a press release that his office will start an initiative to increase employment standards for the Boston Residents Job Policy and Boston Employment Commission.
This initiative is part of an ongoing effort to create more employment opportunities for Boston residents, persons of color and women, according to the release.
The BRJP is Mayor Walsh's policy for ensuring resident employment on city-sponsored, privately funded and federally mandated development projects within the city limits, according to Taylor Connolly, a spokesperson for the Mayor's Office of Economic Development.
Walsh has been working on updating the policy to reflect the changing demographics of Boston, according to Connolly.
"The success of Boston's growing economy relies upon our ability to open the doors of opportunity to all our residents, and remove barriers causing economic inequity throughout our city," Walsh said in the release.  
The citywide unemployment rate is at a historic low of 4.3 percent overall, but in some neighborhoods of Boston, the rate is double or triple that, according to Connolly.
In an attempt to remedy this, the new policy requires for the first time that Boston residents represent a majority of workers on covered construction projects, according to the release.
"At least fifty-one percent of the total employee work hours and fifty-one percent of the total apprentice work hours … on a covered project shall be by Boston residents," according to the release.
To ensure compliance with the new policy, the BEC will conduct reviews of all covered projects. The BEC will also have the power to impose sanctions on general contractors and subcontractors who are found noncompliant with the policy, Connolly said.
John Barros, the chief of economic development, wrote in an email that the new job policy comes during the third largest construction boom in Boston's history.
"The updated BRJP reflects the changing demographics of Boston and is in keeping with Mayor Walsh's vision of promoting economic equity as the top priority of his administration," Barros wrote.
James Dana, an economics professor at Northeastern University, said he does not think the new policy will have significant benefits for the economy.
"Economists are in an agreement that differences between the top 20 percent and the bottom percent have been growing in a way that is not good for the economy," Dana said. "[The policy] won't change economic activity. [It] clearly is a constructive policy because it addresses some of the inequality across race and gender, but I doubt it has a stimulus effect that people want."
Several Boston residents said minorities are at a disadvantage when it comes to the job market.
Emily Aoki, 18, of Back Bay, said employers should treat their workers equally, regardless of background.
"People should be more open-minded or have a screening process or interview process that makes the physical appearance of a person anonymous," Aoki said.
Lilliana Kulak, 21, of Back Bay, said minorities should fill more government jobs in particular.
"More women and minorities should be in city councils," Kulak said.
Terence Simpson, 21, of Fenway, said he thinks more can be done to address income inequality.
"As a black man, I can personally attest to discrimination in the work force, based off of characteristics such as not having a 'normal' enough name," Simpson said.
John Harris, an economics professor at Boston University, said one of the biggest reasons for inequality in the construction industry is because women and people of color have had fewer opportunities to train in this sector.
"Whatever the projects are, whatever the jobs recruiting, processes matter," Harris said. "[The employment disparity is] about explicit discrimination … [The policy is] not going to be dramatic, but it's good to break stigmas. These communities should be included in the workforce as well."