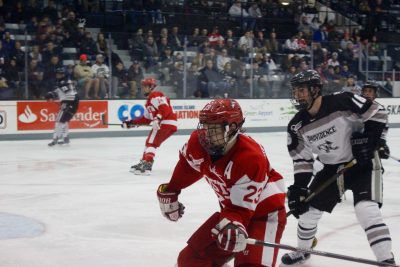 PROVIDENCE – If the No. 6 Boston University men's hockey team wants to play deep into April, they'll have to bounce back time and time again in less-than-ideal conditions.
That's exactly what they did Friday night, as the Terriers (8-4-1) scored twice in the second period after an ugly opening frame to beat Providence College 2-1 at Schneider Arena. The win now gives BU seven conference points in five games as the Hockey East schedule picks up.
Sophomore forward Jakob Forsbacka Karlsson scored his 13th goal in a Terrier uniform, and senior forward Nik Olsson lit the lamp for the first time since the 2015 Hockey East Championship game. The BU penalty kill also was a big factor, going 7-of-7 against the Friars (5-6-2, 2-2-1 HE).
Other than that, BU head coach David Quinn was not thrilled with his teams performance. The Terriers were called for eight penalties, including a game misconduct from senior forward Nik Roberto, who was tossed as a result.
"Not going to apologize for winning a hockey game [where] you don't feel great about your performance, because the season has a funny way of playing out," Quinn said. "There are going to be nights where you play really well and you don't win and they're going to be nights where you don't play great and you win. I think that was one of those nights tonight."
The story of the night, however, was freshman netminder Jake Oettinger, who made 38 saves, including 16 in the third to keep BU ahead. His performance was impressive after letting up four goals in his last start against the University of Connecticut on Nov. 19.
"I'm not surprised," Quinn said of Oettinger's bounce-back outing. "He's been a really good goalie all year. You're not going to play great every night, and the key is when you have a tough night, how do you respond? He's responded well when he hasn't played great. Those nights haven't been often, but when he hasn't had a great night he's followed it up with a really good night."
The Terriers are Friars are top-20 teams in terms of penalty minutes per game, and Friday night's affair followed that mold to a T.
Providence would strike first when sophomore defenseman Charlie McAvoy lost the puck behind his own net, allowing Providence forward Kasper Bjorkqvist to score on Oettinger from the slot 4:46 into the period.
The biggest play of the first period, however, was Roberto getting ejected four minutes later. He was called for illegal contact to the head on a hit on Friar defenseman Jake Walman, leading to a five-minute major.
BU would serve 21 penalty minutes in the first 20 minutes, limiting their offensive chances. The penalty kill kept the Terriers down only one goal, as the Friars outshot BU 13-4 in the frame.
"Our penalty kill has been one of our strengths the entire season, and we showed it tonight going down, especially killing that five-minute penalty early in the game," Oettinger said. "Obviously, penalties are always huge swings in the game and I thought our team did a great job tonight."
In the second, the Terriers stayed out of the penalty box, and naturally, the goals followed. Forsbacka Karlsson kicked it off just over five minutes in the frame. He grabbed the puck on the rush and went backhand to beat Providence goaltender Hayden Hawkey, his old Omaha Lancers teammate, and tie it up.
Just 1:21 after Forsbacka Karlsson's third goal of the season, Olsson fired from the right circle to put the Terriers on top in his first game back from injury. It was the fifth time this season that BU scored back-to-back goals in 1:25 or less.
"I thought that stretch in the second period we were playing well in their end and established a forecheck, did a lot of good things," Quinn said. "[It was] 2-1, had some chances to make it 3-1 and their goalie made some big saves."
The third period started off well enough for the Terriers, but they struggled the final ten minutes to clear the puck. The Friars took 16 shots in the frame, providing plenty of tense moments, but Oettinger stood tall time and time again.
So despite being outshot by more than 20 shots, the Terriers grab an important road win with some key players sidelined. They'll look to get the sweep Saturday night when they host the Friars, but Quinn wants his guys to win more man-to-man battles in order to ensure a victory.
"We were on our heels quite a bit," Quinn said, "they won most of the 1-on-1 battles tonight. You can draw up all of the fancy plays you want, but at the end of the day this game is about 1-on-1 battles, it always will be. They won way more than we did tonight."