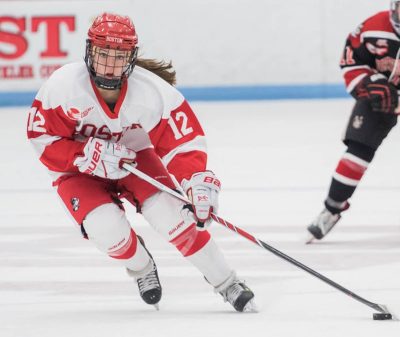 The Boston University women's hockey team looks to continue its five-game winning streak this weekend in a home-and-home series against the University of Connecticut.
The Terriers (10-5-1, 6-5 Hockey East) have good reason to be confident, as they have not lost since Nov. 12 at the University of Maine. Over the course of their hot streak, they have scored at least four goals four times, including a 7-3 blowout victory over Merrimack College on Nov. 18.
BU head coach Brian Durocher said that everything has come together during the team's hot streak.
"Any time you get on a roll, it bodes well going into games," Durocher said. "People are scoring goals, you're defending a little better and goalies are playing sharp."
He also said the winning streak has boosted his team's confidence.
"Without a doubt, it's a positive thing," Durocher said. "When you're going into games and you've played well, you've had some good things happen. In our case, we've scored a couple times in overtime. All those things are important to have in the kids' heads."
BU's improvement on defense throughout the season has ignited the team throughout the winning streak. Over their past five games, the Terriers have only allowed an average of two goals per game.
Durocher credited the whole team for its improved defense.
"We all knew we had to find a way," Durocher said. "It's not just the goalies. It's the defense, it's the forwards back-checking and it's the coaches probably coaching better."
The stellar play of junior forward Victoria Bach has been another key factor for the Terriers. With 23 points, Bach is now tied for the team lead in points with graduate student forward Mary Parker. Her 13 assists this season leads the team.
"[Bach] has done everything very well over the last number of weeks," Durocher said. "It's her skating abilities and hand skills. She's evasive every single night, but she's turning it into points a little bit more now than in the first four or five games of the year."
Heading into this weekend's series, the Terriers have won 17 games in a row against the Huskies (8-5-3, 3-2-1 Hockey East) dating back to the 2009-2010 season.
Despite his team's dominance in recent seasons, Durocher is wary of Connecticut's strong defense. UConn allows only 1.88 goals per game, which is tied for best in Hockey East with No. 6 Boston College.
"They're very demanding and organized defensively," Durocher said. "They really fight like crazy around the net, and sometimes against a team like this, the few times they make a mistake, you've got to turn it into a goal. That's a credit to the kids and a credit to the organization of the staff there."
The series begins Friday night in Connecticut and concludes on Saturday afternoon at Walter Brown Arena.
"We've got to make sure that this is more than just a small mirage that came through town," Durocher said of the winning streak.
"We're getting stingier and stingier to score goals against, because we've got a wide variety of talented forwards and kids who can produce points," said Durocher. "We'll get our points through the year, but if you're going to win championships, I think it starts with defense and timely goals, and we want to get better in that end."