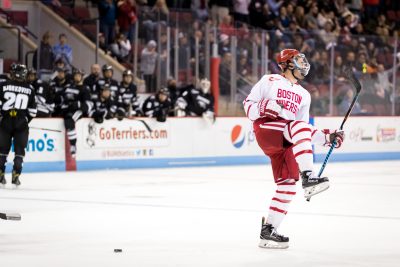 With six minutes left on the clock Saturday night, it appeared as though the No. 6 Boston University men's hockey team was done and dusted.
Providence College, thanks to first-period goals from forward Scott Conway and assistant captain Jake Walman, held a commanding 2-0 lead. The Terriers spent 20 minutes in the penalty box across regulation play, too, and appeared destined for their third shut out of the 2016-17 season.
Then Agganis Arena came to life and the tides turned in a major way.
"I think we needed a goal just to ignite us, and then all of a sudden – we were feeling sorry for ourselves," said BU (8-4-2, 3-1-2 Hockey East) head coach David Quinn. "We were our own worst enemy after the first two periods, and we were getting frustrated. Finally … we start having some chances and start buzzing."
By the tilt's end, the Terriers salvaged a 2-2 overtime draw and found goals from perhaps the unlikeliest of sources. Junior defenseman Brandon Hickey, in what marked the sixth tally of his career, drove low and hard on goaltender Hayden Hawkey with 5:10 left.
With a burst of speed and persistent drive, Hickey jammed home atop the crease. Like clockwork, junior assistant captain Nikolas Olsson followed suit with 2:49 left. The native of Escondido, California whipped a rebound past Hawkey, marking his second tally in as many games.
And in the blink of an eye, BU turned what could have been a demoralizing defeat into an overtime battle.
"Our two goals, we're playing the right way," Hickey said. "That's why we got them. If you continue to play the right way and you continue to go hard on the forecheck, get sticks on pucks like we did on both forechecks, you're going to get rewarded."
As the extra stanza unfolded, chances were few and far between – that is until five seconds remained. Sophomore forward Bobo Carpenter, perhaps the benefactor of circumstance, found himself on a shorthanded breakaway. The Agganis Arena crowd practically urged him to shoot, but a wrister to Hawkey's right was absorbed, sealing one point for each squad.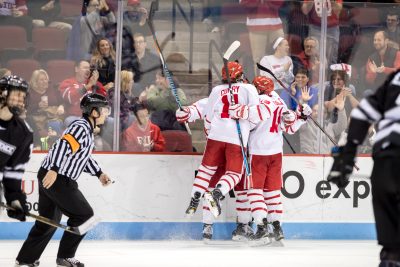 Despite the back-and-forth nature of Saturday night's clash, Quinn returned to one central theme during his postgame press conference: penalties. That trend allowed the Friars (5-6-3, 1-4-2 Hockey East) to fire 14 shots towards Oettinger on their nine power-play chances.
Even Kieffer Bellows, a Terrier freshman forward, was benched for the second half of the game, with Quinn offering "penalties" as the only explanation.
"I thought there was a stretch over the last few weeks where we weren't taking penalties, and then we get right back at it," Quinn said. "It's just undisciplined. It's frustrating because it's incredibly impactful when we take that many penalties … You put yourself behind the eight ball, and right now that's the theme for our season, the penalties."
Looking at the bigger picture, Saturday's solitary point came on the back of BU winning 2-1 on Friday night at Schneider Arena. Quinn's squad has also now twice snatched three of a possible four points from Hockey East weekend sets, with the other coming against Northeastern University in early November.
That state of affairs left a lasting impression on Olsson, even if Providence arguably controlled the majority of both games.
"I think we have a young team, and we're slowly learning that every weekend against a Hockey East opponent is a hard weekend and it's really tough to take four points away from a team," Olsson said. "We're slowly learning that, but it's a lesson that we need to learn."