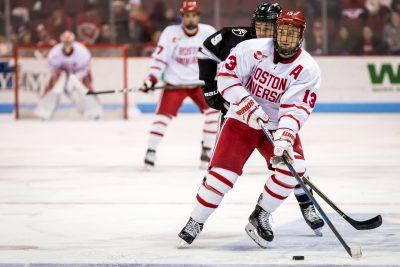 For the No. 6 Boston University men's hockey team, their oldest assistant captain could not have returned at a better time.
After missing seven games with an upper body injury, junior forward Nik Olsson rejoined the Terriers (8-4-2, 3-1-2 Hockey East) in a big way, scoring two goals in a wild weekend series versus conference foe Providence College.
With the game winding down Saturday and the Terriers trailing 2-1, it was the scrappy Olsson who found the back of the net to knot it up with less than three minutes to play. His game-tying goal came a day after scoring the eventual game-winner in a 2-1 victory over the Friars (5-6-3, 1-4-2 HE) on the road.
Needless to say, BU head coach David Quinn is happy to have Olsson in uniform again.
"It's great to have him back," Quinn said. "He's an older kid, he's physical, we don't have a lot of those guys so it's nice to have him back in the lineup and give us some depth. It's nice to see him get rewarded on the scoresheet."
It's well-known that Olsson has had bad luck staying healthy in the past. He played in only 14 contests last season after suffering from a shoulder injury early on. He's missed 32 games since his freshman year, but when he's been on the ice, he's provided Quinn's squad with whatever was needed.
On Saturday, the Terriers looked sluggish and lazy at times, and it was the 6-foot-0, 205 pound native of Escondido, California who brought the energy on the third line. When Quinn decided to bench freshman forward Kieffer Bellows after he committed two penalties in the opening period, it was Olsson who filled in and provided scoring opportunities for BU.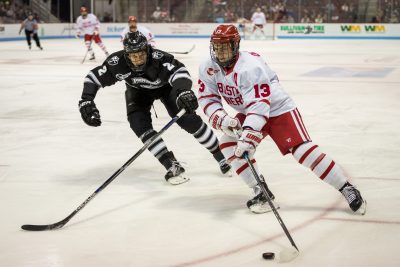 It took a while for the Terriers to convert on those chances, but after a Brandon Hickey goal with five minutes remaining in the game, Olsson lit the lamp with 2:49 before the final horn. He found himself in the right place at the right time and made the most of the opportunity for his eighth collegiate goal.
"I'm pretty surprised, to be honest," Olsson joked afterwards. "I never really expected that sort of return, but obviously I'm really glad to be able to come back and contribute in anyway that I can. Luckily I was able to do it on the scoreboard and block a couple of shots and throw a couple of hits. I'm just glad to come back and make an impact."
BU may have gone 4-2-1 without Olsson in the lineup, but many times the team lacked the physical edge that the junior brings on a regular basis. There's no doubting that Olsson's return to the lineup provides a huge boost for BU and keeps them in games.
Another positive from the junior forward is his ability to stay out of the box. Penalties were a big problem for the Terriers on Saturday, as the Friars scored both of their goals on the power play. For Olsson to bring his aggressive style while not being called for a penalty proved to be huge. He has only spent four minutes in the box through seven contests.
Now, with a successful return behind him, Olsson will look to keep the intensity level up and provide the spark for a Terriers squad that has had its fair share of ups-and-downs. As Quinn notes, that lead-by-example quality is much more effective when Olsson is healthy and raring to go.
"He's been frustrated because he's been hurt, but the guys certainly respect him and they like him and he works hard and he's got a presence," Quinn said. "I'm sure he feels a lot better now that he's able to play, and obviously getting on the score sheet is a big deal for him. It's a lot easier to lead when you're playing then when you're not."