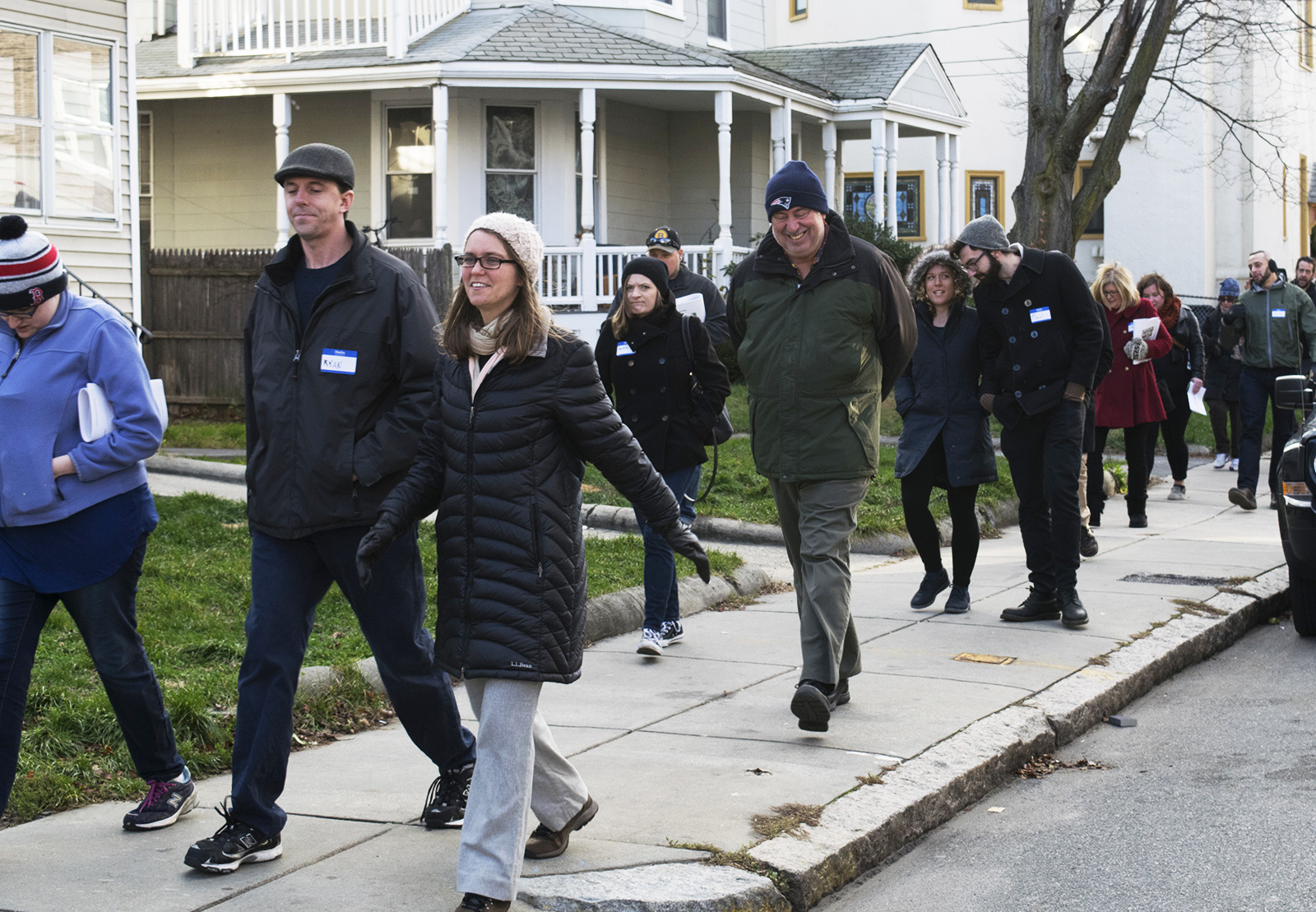 4.2-mile walk lets community leaders, residents discuss Emerald Necklace plan
By Abigail Freeman
Approximately 50 people walked from Franklin Park to Joseph Moakley Park Saturday morning to learn about how Imagine Boston 2030 plans to expand the Emerald Necklace, which is a plan to connect Franklin Park to the waterfront, according to the City of Boston blog.
The tour was part of Imagine Boston 2030 week, Mayor Martin Walsh's weeklong initiative to engage Boston residents with Expanding Opportunity, a draft strategic plan for improvements to the City of Boston, according to a press release issued Nov. 21 by Walsh's office.   
Imagine Boston 2030 organized the 4.2-mile walking tour to hear feedback from residents who would be directly affected by the plan.
Natalia Urtubey, director of engagement for Imagine Boston 2030, said she wants to give people a real-life perspective of the ideas of Imagine Boston 2030.
"Mayor Walsh has said … it's [the plan] coming from all of the citizens who have taken a role, and all of the residents who have really gotten involved and given us feedback," Urtubey said. "We thought doing some place-space activities would really allow us to bring it to the locations where there may be some changes and enhancements over the next 15 years."
The tour group included residents and several city officials involved with Imagine Boston 2030. The group walked down Columbia Road from Franklin Park to the waterfront, stopping periodically to hear from city officials along the way.
Rebekah Emanuel, the executive director of Imagine Boston 2030, said prior to the tour that she wanted attendees to tell her what Imagine Boston 2030 could improve upon.
"I'm really curious to hear all of the thoughts and reactions people have because the people who know most about our city are the people that walk it every day and see the possibilities and the things that aren't working," Emanuel said. "We want to capture all of that, and hopefully pull it together into a forward-looking plan."
Attendees expressed a variety of reasons for why they participated in the tour.
Ann Marie O'Connell, 62, of Newton, said she was pleasantly surprised to learn how much work Imagine Boston 2030 had already done to get the plan in motion.
"I was happy to hear their commitment to this idea of connecting Franklin Park to the waterfront," O'Connell said. "I'm glad to hear that Imagine Boston has some real legs and that they're really trying to engage the public in creative ways like this walk."
Vivian Girard, 45, of Dorchester, said he was particularly concerned with bike lanes.
"As you can see in many places they [the bike lanes] are all faded, and because they aren't protected so many people are uncomfortable using them," Girard said.
Benjamin Clock, 42, of Jamaica Plain, said he didn't expect to meet such a large number of city officials on the tour.
"I'm very happy to see such a diverse engagement of the officials here," Clock said, "and getting all of their different perspectives is a nice surprise."
Residents walk through Allston-Brighton, discuss community changes
By Jacqueline Contreras
Saturday afternoon, approximately 25 people joined the City of Boston for a walking tour of Allston and Brighton that focused on ways the city plans to expand and enhance the neighborhood as part of Imagine Boston 2030 week.
Urtubey and Emanuel led the 1.5-mile walking tour along with other Boston city officials.
"Boston is in this moment of incredible population growth [and] economic robustness, and we're hoping to harness those goals toward the long term goals of our population as a whole, which include affordability, climate resilience, being able to take advantage of technology and making sure that everyone has access to opportunity in Boston," Emanuel said.
The planning process for Imagine Boston 2030 took over a year, according to Uturbey.
"We've been capturing what folks think, how they envision the future, what they're most thoughtful of, worried about, all these things," Urtubey said. "For us it was really important for folks to be able to be in real life with some of these concepts, and be able to visualize and see what we're talking about in the document."
The walking tour of Allston and Brighton allowed city officials to get feedback on the concept of expanded neighborhoods, a way for the city to maximize land usage for resident use, according to Urtubey.
"We're going to be talking about Beacon [Park] Yards … to really think about how do we imagine an area that doesn't have anything at all, and really think about how to build a great neighborhood," Urtubey said.
Beacon Park Yards is being redeveloped through a partnership between Harvard University and the state, according to Urtubey. The city has three main goals for the site, Mark Handley, the associate director for government and community relations at Harvard University, said during the tour.
The first goal is to create a brand-new, mixed-use neighborhood that would provide jobs and housing, Handley said. The site would include office space and biotechnology, life science and medical uses, Handley said. The site would also be sustainable, transit-accessible and transit-oriented.
The second goal, Handley said during the tour, is to open a multimodal transit station that would provide commuter rail access and would introduce new bus-rapid transit service.
The final goal is to improve the condition and safety of the turnpike infrastructure that is located next to Beacon Park Yards, according to Handley. This would involve the replacement of the Massachusetts Turnpike bridge that runs through Beacon Park Yards with a new bridge closer to the rail lines, Handley said during the tour.
Kerry Molloy, 28, of Allston said she attended the walk because she cares about Allston remaining an affordable community.
"I would like to see Boston, as having vibrant neighborhoods, a vibrant community, a place where people want to live, where people can afford to live," Molloy said. "I would prefer us not to be at the top of the most expensive places to live; I prefer we be further down that list. Taking the Boston we have now and making it better and more livable and more affordable to live."
Sarah Hosman, 33, of Brighton, said she sees some people excited for changes happening to the community and some that are not, but she nevertheless enjoys seeing the change happen.
"Some of the most interesting things I've seen are some of the public art initiatives in Allston, and really harnessing Allston's identity as a center of culture and music, and really capturing that in some of the public art," Hosman said.
David Fisher, 26, of Allston, said he hopes to see Boston as a thriving, equitable and sustainable city in 2030.
"If nothing changes as time goes on, climate change will only exacerbate the inequities of the city," Fisher said. "I think it's important find a way to make the city more resilient."