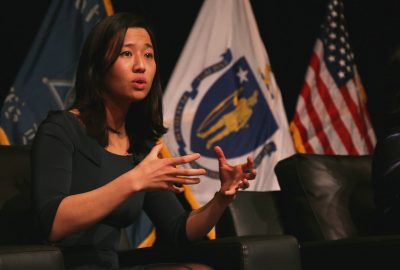 By Sarah Wu and Ben Rabin
Boston Mayor Martin Walsh and City Council President Michelle Wu are seeking to expand Acoustic on Main, a successful pilot program that would allow small businesses in certain districts to host local artists without obtaining an entertainment license, according to a Thursday press release.
Wu proposed the program expansion, which would begin on Jan. 1, in order to increase foot traffic and develop a vibrant arts community among neighborhoods, the release stated.
The program would be mutually beneficial for small businesses and local artists, Walsh said in the release.
"With performances in bakeries and restaurants, local shops and nonprofits, the best of Boston is showcased when artists and local businesses come together in our communities," Walsh said in the release. "The City is taking steps today to create more opportunities for residents and visitors to support and enjoy Boston's thriving neighborhoods."
Wu said in the release the proposal would give local businesses opportunities to promote their operations.
"This ordinance empowers Boston's small business owners to enliven our business districts and showcase our arts and culture talent," Wu said in the release. "By eliminating red tape for acoustic performances in our small businesses, we hope to give neighborhood retailers another tool to entice customers to shop local."
Businesses would need to be registered and licensed, with performances allowed from 10 a.m. to 10 p.m. with one microphone and five musicians at one venue at a time, the release stated. Businesses in residential areas, the release stated, would need an entertainment license if they were to host live performers.
Walsh and Wu started Acoustic on Main in April 2015 to assist small businesses following a harsh winter on local businesses, according to an April press release.
Barbara Raney, student services manager for the School of Music in Boston University's College of Fine Arts, said the program would raise awareness for all kinds of art.
"Anything that gets art out there in front of the public in nontraditional venues is a great idea," Raney said. "Any kind of experience to give our students the opportunity to play in nontraditional venues is a great experience. You need to read your audience, you need to be able to acclimate to an unusual situation and those kind of opportunities and skills are always great."
Raney said CFA provides a website dedicated to giving students opportunities to book gigs and career development talks.
"Students need to be a lot more creative and think outside the box," Raney said. "At the same time it's more exciting. It's scary but there's freedom — they can write their own story. But then again, what other occupation these days is a guarantee? I think it's what this generation faces no matter what vocation they're going into."
Several Boston residents said the program would be beneficial for citizens, local business and performers.
Dylan Swett, 33, of Allston, said he enjoys live music in restaurants and bars, and that local businesses and artists could collaborate well through the program.
"It's what people want every day," Swett said. "You can't go anywhere without seeing that an artist or musician made. Artists make the world."
Michael Scully, 33, of Kenmore, said the program provides a great opportunity for the city to underscore its culture and local music scene.
"Plenty of local businesses would do well with that [program]," he said. "The city's culture is the backbone of the city — it's what draws people in, and it's what keeps people here … so as a general rule it's a good thing and we should promote [local musicians]."
Christopher Maurer, 67, of Brighton, said the program would be a great way to promote music and the arts.
"Music is a basic part of our humanity," he said, "[and unfortunately] there are fewer and fewer opportunities [for musicians], and there are fewer and fewer live venues, so we should be creating more of them."