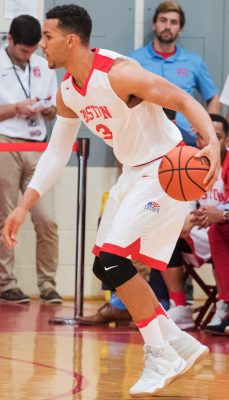 After a fruitless three-game road trip, the Boston University men's basketball team will look to get back in the win column when it returns home to face off against Canisius College on Wednesday night.
Before losing to Saint Peter's University, the University of Connecticut and North Carolina State University, the Terriers (4-4) had won four consecutive contests. While BU lost both the UConn (4-4) and NC State (6-2) games, those losses were by two and four points, respectively.
One of the keys in those games was BU's active shot defense, which kept it alive in those games. BU held UConn to 32.1 percent shooting, including 29.4 percent from 3-point range, while NC State shot just 42.1 percent from the field.
"Right now defensively, outside of the Saint Peter's game and the first Northeastern [University] game, our defense has been pretty solid," said BU head coach Joe Jones. "We've done some things to put ourselves in a position to be successful. At this point our ability to stop people has been pretty good, but it's something we need to constantly be talking about and doing."
Shot defense will also be important against a Canisius (4-5) team that shoots 44.8 percent from the field and 37.2 percent from deep. The Golden Griffins boasts three impressive scorers that BU must contend with.
Guard Kassius Robertson and forward Jermaine Crumpton each average over 16 points per game, with Crumpton shooting an astounding 60.9 percent from long range. Even more impressive than that may be Robertson's 3-point shooting display. The Toronto native is averaging 44.4 percent from behind the arc, but has done it on almost triple the shots Crumpton has.
BU knows these players well, as the Terriers visited Canisius last year and were dismantled 84-68. In that defeat, Robertson and Crumpton had 13 and 11 points, respectively.
"I didn't watch the game and I'm not going to," Jones said. "We didn't play well and it's just gonna be more upsetting to watch. It's a brand new coach; they only have three guys returning from last years team, so really no need to watch that game."
Although the Terriers do not have any players averaging more than 15 points per game, they have a more balanced attack with senior guard Eric Fanning leading the way. The team has 10 players averaging 4.7 or more points, giving them a variety of offensive options.
The emphasis for BU moving forward is finishing games strong and converting on free throws. Against NC State, BU missed 11 of their 23 free throw attempts, which proved to be crucial missed shots in the four-point loss.
"In the Connecticut game and the NC State game if you look at our free throw percentage it has been pretty bad," Jones said. "It's hard to win on the road, or win any game when you're shooting this poorly from the foul line."
For the season, the Terriers are shooting 68.5 percent from the foul line, better than their opponents, who have only converted at a 62.5 percent clip. That being said, Jones wants more out of his players in crucial spots.  
"We've got to be able to make our foul shots, we've got to be able to get timely stops, and we've got to be able to execute down the stretch," Jones said. "Those three things have been really important in the last two games, but I also think every day getting better and coming in and trying to improve on every aspect of the game is important because you never know what you're going to need when you're going to need it."
With their longest road trip of the season in the rear view, the Terriers can now focus on the road ahead, which includes a critical three week-stretch before Patriot League play. As long as the Terriers can remained focus, Jones said he is confident that his team will find success moving forward.
"These guys have shown they can compete at a pretty high level when they're focused, but every night you need to be able to have that type of focus," Jones said.