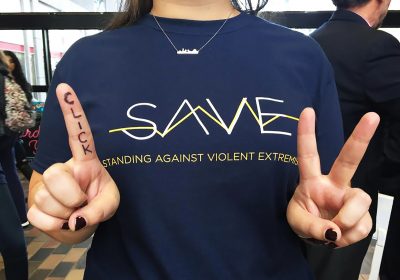 Approximately 20 seniors in the Boston University College of Communication have created and developed a social media campaign, "Students Against Violent Extremism," known as SAVE, as part of a competition sponsored by Facebook and the U.S. Department of Homeland Security.
The competition, "Peer to Peer: Challenging Extremism," challenges students to create and develop a social media campaign to combat the influence of violent extremism on the internet.
SAVE was created as a part of the students' work in COM professor Steve Quigley's New Media and Public Relations course. SAVE has also partnered with a nonprofit organization, Parents for Peace, which provides resources for families that may have been affected by violent extremism online.
"Based on our research we have found that alienation and rejection are leading causes for extremist recruitment," SAVE wrote in the mission statement on its website. "If we can educate those around us of this trend and provide solutions, we feel that we can make a difference in this world."
SAVE has based its social media campaign on hashtags, including #oneclickto, to raise awareness and spread positivity on platforms such as Facebook, Instagram, Twitter and YouTube.
"#oneclickto attempts to provide a positive alternative to the hatred circulating on social media," said Claire Nester, a COM senior and a student in Quigley's class. "People are only one click from hate and one click to love, acceptance, help and tolerance."
SAVE also provides resources to students and other individuals who feel threatened by social media and violent extremists online.
Megan Smith, a fellow COM senior in Quigley's class, said one of the main goals of the campaign is to work with Parents for Peace and provide a positive alternative to the negativity that exists online.
"We hope to light a fire in our peers, and start a nationwide movement to stop terrorism by growing the knowledge of those around us and inform those who want to see change," Smith said.
Many of the students in the class said SAVE was more than just a class project for them because they felt empowered and passionate about stopping violent extremism.
Elle Hvozdovic, also a COM senior in the class, said that she felt empowered by SAVE because she was personally affected by the terrorist attacks on 9/11.
"As someone who has lost loved ones in tragedy, I know that the prevalence of extremist narratives on social media is growing and is making it much easier for extremist groups to victimize young, fragile minds," Hvozdovic said.
Hvozdovic also said she is confident that through all of the hard work she and her classmates have done, they can make a real difference.
"We are not trying to stop a global phenomenon, but we do believe that we can make an impact and minimize the reach of various extremist organizations," Hvozdovic said.
COM senior Lauren Jones, another student in the class, said the class taught her to be more aware of the hatred and bias that often exists on social media.
"It's a very sad reality that I wasn't aware of before because I was safely stuck in a little bubble," Jones said. "It's important to be aware of these situations and that if we see something online, we can take actions to do something and we're not as helpless as we think."
Next semester, the New Media and Public Relations course, as well as the SAVE campaign, will be led by professor Jessica Stern, an expert in terrorism in the Frederick S. Pardee School of Global Studies.
Quigley said he is proud of all of his students' work and is confident that Stern will be able to continue to open students' eyes to the issue of violent extremism online.
"We all live on social media and we often find it integral in our lives so we sometimes forget how very evil it can also be," Quigley said. "I hope that this project has in some way opened our students' eyes to the other side of social media."