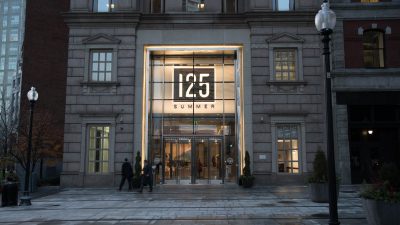 In any profession, many regard a sense of community as being highly desirable. In the world of digital innovation and education, General Assembly "fosters an elite professional community of individuals and companies through education and strategic career connections," according to its website.
GA started in 2011 as "a co-working space" in New York City, and has now grown into a vast global learning platform that has over 25,000 graduates and campuses in 15 cities worldwide, according to its website. With the launch of a new campus on Summer Street in Boston on Thursday, the company is continuing its expansion.
Jake Schwartz, the CEO and co-founder of GA, flew to Boston for the inauguration party of the new campus. In his speech addressing the crowd, he spoke about how important building a community was to GA's vision.
"Our vision in the beginning was to build this global community of people who are empowered to pursue the work they love," Schwartz said. "And by doing that, [we can] transform the world of talent, transform the world of what it's like to be an employee on your journey for your career, [and] change what it means to be an employer."
Shannon Keating, the local marketing and partnerships manager for Boston GA, expressed that the company is sticking to its original roots throughout these expansions.
"The whole big community aspect is how we started," Keating said. "Offering workshops and events that reach out to people outside our student body with events and workshops has always been an integral part of our mission."
Keating talked about how data science, one of GA's most popular courses, was something many people want to study but often feel is beyond their grasp. The interesting topic, however, is important and has many useful implications in the world today, she added.
"[It's] how we reach out to people and introduce them to GA, as well as how we introduce them to topics they might be interested in, but are intimidated by," Keating said.
Keating also spoke about how the GA team is constantly evolving their curriculum to reflect what was most relevant in the world around them.  
"We've even started to offer some web development immersive remote courses," she said.
These courses demanded innovative solutions to still get the community feel.
While people could take the course from anywhere in the world, they still had to check in with their classmates and had groups of people who worked together.
"It wasn't just like watching a tutorial video alone; it's more than that," Keating said.
Both attendees and instructors alike expressed enthusiasm for GA's focus on collaboration and friendship.
"GA helps people change their career and achieve their dreams, or helps them achieve what they want to in their own field," said Greg MacLennan, a 28-year-old student at GA Boston who attended the inauguration ceremony.
MacLennan discussed how he had recently started taking classes at GA to benefit his career.
Jeff Horn, an instructor for the Web Development Immersive class at GA, talked about how one of his favorite aspects of teaching at GA was seeing how the community aspect of it panned out.
"Any organization of this sort is about community," Horn said.
He explained in his personal experience, the alumni always ended up giving back more than they had taken from the place.
"The good thing about GA is that the students bond in their professional career as well, as they have a shared path and hence they end up supporting each other and, on some occasions, even collaborating with each other," Horn said. "And this leads to more successful careers for all of them."