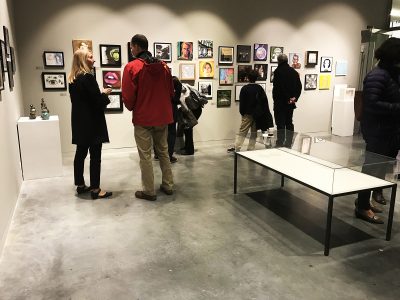 Defining one's identity can be challenging, and discovering a sense of self-reflection can sometimes take a lifetime. But Lesley University's art exhibition, "Identity," created with students from New England preparatory schools, challenged the idea of finding identity and pushed high school students to create art around the theme of identity. Their pieces were featured at Lesley's Lunder Arts Center in Cambridge on Friday, allowing the community to share in the students' visions.
Stuart Steck, a coordinator of the exhibition and an art history professor at Lesley's College of Art and Design, highlighted the diverse methods the young artists used in their pieces given the topic of identity.
"Some students used language, others used gestures, symbolism and cultural iconography," Steck said. "That's the great things about art — it's an open expression of thoughts."
Although the students ranged from ages 14 to 18, they conveyed depths of intellect and wisdom that challenged the brains of attendees almost double their ages, Steck said. The universal theme of identity allowed attendees from all stages in life and backgrounds to relate to the vast array of interpretations expressed by students.
Students were initially provided with a concrete dictionary definition of the word identity. However, as the layers of paint and creativity accumulated, the students channeled their definition into the path of their own interpretation, whether it was biological, historical, cultural or physical.
This lack of structure allowed students to make the most of their project.
AJ Sample, a junior at The Governor's Academy in Byfield, said he took inspiration from the prominence of crime in his neighborhood in his home city of Philadelphia. Adding a 3-D twist to the project, Sample attached a crumpled photograph of a child immediately after being shot, surrounded it with real bullets and encased the whole canvas with police tape. Identity is not confined to tangible characteristics, Sample said, but rather a broader perspective one possesses.
"People may have assumptions about who you are," Sample said. "Art allows for you to correct those assumptions and express your true identity."
Many other students took a similar mentality as Sample, attempting to allow their true personality to shine through. As high school students, Sample said, it was sometimes difficult to be seen as serious or professional.
Further pursuing the influence of assumptions, Emma Vitale, a junior at The Governor's Academy, narrowed the focus of her project on fascism's hindering of individualized identity. Vitale portrayed the fascist principles of equality and rejection of uniqueness in her piece. She utilized the contrast of puppet strings controlling the actions of citizens outside a building and the citizens' free will in determining their own actions inside of a building.
"I wanted to show how fascist governments limit the ability of the individuals to embrace the definition of identity: what makes you, you," Vitale said.
Although the beauty of open interpretation allows for the discovery of one's identity, some students said they found the loose regulations as sometimes being hard to work with.
Expressing being impressed by the accumulation of such interpretations, Bonnell Robinson, a professor and the director of exhibitions at Lesley's College of Art and Design, commended the fellow artists in the room for their pieces.
"It's interesting to see what you can do with 12 inches of a canvas," Robinson said.
Karen Koskores, an art teacher and gallery director at Thayer Academy, agreed that she thought it was wonderful to see the creativity the students displayed, and used this exhibition as an opportunity to reflect on her job.
"Art is the easiest and most difficult thing to teach because there is no right or wrong," Koskores said. "All you can do is show them the tools, and they have to use those tools as their own language to express their identity."