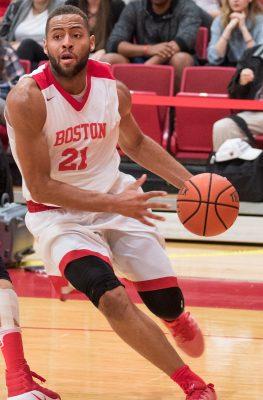 The Boston University men's basketball team dropped its fourth straight game on Wednesday night, falling to Canisius College 87-77 at Case Gym.
It was the Terriers' (4-5) first home loss this season, and prolongs the rough skid they're currently enduring after an impressive 4-1 start to the year.
BU trailed by 16 points with over 15 minutes to play against the Golden Griffins (5-5), and after trimming the deficit to two with just under eight minutes remaining, failed to get any closer.
The Terriers came out lively, jumping out to a 7-2 lead. The rest of the first half was a back-and-forth affair, with both teams trading buckets at each end of the floor.
However, Canisius separated itself with a dominant stretch before halftime.
The Terriers were ahead 31-29 before the Golden Griffins went on a 13-0 run to take a double-digit lead with 2:07 remaining.
BU sophomore guard Kyle Foreman finally broke the scoring drought with a hard-contested layup, but Canisius finished the half strong and entered the locker room up 48-35.
"I thought the pace that [Canisius] played with caught us off guard," BU head coach Joe Jones said. "When they made that run, it was like we were standing still, we were behind everything. It was like we were playing at a different speed. We were trying to change defenses and they were just attacking us."
The Golden Griffins shot 52.8 percent in the first half, significantly better than the Terriers' 38.9 percent.
Canisius was also 8-16 from beyond the arc, with three of those makes coming from guard Kassius Robertson. Robertson was the game's leading scorer, and finished with 19 points and seven rebounds.
The Terrier defense came out pressing the Golden Griffins after halftime, but their strategy backfired as Canisius broke the press with quick passes that led to open layups.
From the 15:50 mark, when they were down 57-41, to the 7:58 mark, the Terriers outscored their opponent 22-8 and suddenly found themselves down only 65-63.
Junior guard Cedric Hankerson brought BU back to life, as the Miami native finished with a team-high 18 points on 5-of-8 shooting from 3-point land.
Just when the home side had the momentum, the Golden Griffins countered with a game-sealing 22-14 run that squashed any shot at a Terriers comeback.
"We just couldn't get over the hump," Jones said. "We couldn't make enough stops. We didn't make the foul shots we needed."
When the Terriers got within striking distance late in the game, it was surprising to see senior guard Eric Fanning and junior guard Cheddi Mosely, their top two scorers this season, on the bench.
Junior guard Will Goff got his first start of the season, but only played six minutes.
After the game, Jones was visibly frustrated with his team.
"We've got to be ready to go every day," Jones said. "If you're not ready to go and you're not doing the things that we need you to do, we're moving on to the next guy. Everyone's got to be responsible to be ready to go every day."
Jones repeatedly stressed the need for his team to improve their focus and preparation.
"One thing we have to do a better job at as a program is being ready every day," he said. "That means practice, meetings, everything, we have to be focused and ready so we can play at a championship-caliber level. If we learn and we grow, you see the team. We're going to be a very good team, but we can't be sitting here in a month talking about the same things."