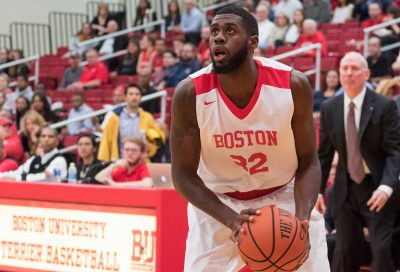 The Boston University men's basketball team will look to win its first away game of the season on Saturday afternoon against Syracuse University at the Carrier Dome.
The Terriers (4-5) have lost four games in a row following a 87-77 loss to Canisius College on Wednesday night at Case Gym. They had won their previous four games before the skid.
Meanwhile, the Orange (5-3) look to build on their Final Four appearance in the 2016 NCAA Tournament. They lost their last game, 52-50, to the University of Connecticut on Monday night.
BU head coach Joe Jones said his team has to pass the ball efficiently on offense to beat the perennial NCAA powerhouse.
"We're going to have to move the ball around against them," Jones said. "We have to get the ball inside and play more inside-out than side-to-side because they got great length on the perimeter. We have to pass it inside or drive it inside."
The Orange have one of the best defenses in the country behind their classic 2-3 zone. They allow just 59.3 points per game on 35 percent shooting, which are the 16th-best and fifth-best marks in the NCAA, respectively.
The Terriers have to capitalize on all the opportunities the Syracuse defense gives them.
Senior guard Eric Fanning, BU's go-to scorer, will need to have a big game. He had two strong showings last week against highly regarded programs UConn and North Carolina State, scoring 21 and 16 points, respectively.
Junior guard Cedric Hankerson also looks to build on his solid performance from Wednesday as he recovers from an ACL injury. The 6-foot-5 Florida native scored a team-high 18 points on 50 percent shooting.
Another key option for BU in this one will be senior forward Justin Alston, who had 12 points and grabbed seven boards against Canisius.
"Once we get the ball inside, we have to be ready to shoot the ball," Jones said. "They do a great job of closing out so quickly, so if they collapse inside, we have to be ready to shoot. We have to make our open shots because it's not easy to score against them."
Saturday's meeting is shaping up to be a close game, as both teams have played well against common opponents. Both teams lost to UConn (4-4) by two points, and BU recently lost 77-73 to NC State (6-2), which plays in the ACC with Syracuse.
To go along with its lock-down defense, Syracuse is undefeated at the Carrier Dome. The Orange boast a perfect 5-0 record in front of their fans.
Despite a weak showing against Canisius, the Terriers have an aggressive defense as well. They allow 71.8 points per game — a high mark — but hold opponents to 41.8 percent shooting.
Last Saturday, BU held NC State to 42.1 percent shooting, even though the Wolfpack hit on average 49.5 percent of their shots, the 27th-best mark in the NCAA.
Despite their solid defense, the Terriers ultimately lost due to a lack of boxing out, as the Wolfpack grabbed eight offensive rebounds in the second half.
Rebounding will be an X-factor against Syracuse, which pulls down 11.88 offensive boards per game.
"Rebounding is something we're going to talk about because we haven't had a chance to practice it this week," Jones said. "We didn't do a great job of rebounding again [Wednesday], and it's important to keep [Syracuse] off the glass, so it's something we're going to have to focus in on for Saturday."
On the other side, much of the Orange's offense goes through graduate student Andrew White III, who scores 16.6 points per game. He can shoot well from long range as well, knocking down 39.4 percent of his 3-pointers.
"We're going to mix up defenses to keep them off balance," Jones said. "You're not going to limit them with the same defense all game, so it's about throwing different looks at them to slow them down."