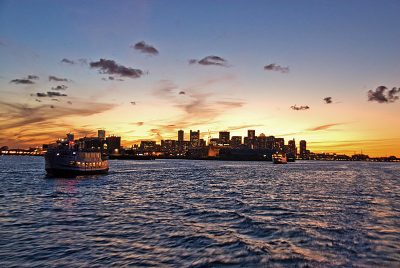 Boston Mayor Martin Walsh announced the final report of Climate Ready Boston, a city initiative to prepare Boston for climate change impacts, at a Thursday morning press conference at City Hall.
Walsh said the report, which will be incorporated into the initiatives Imagine Boston 2030 and Go Boston 2030, aims to improve the city's infrastructure and how the city deals with climate change.
"Climate change affects every aspect of life in our city," Walsh said at the conference. "Our climate change strategy to protect our shorelines, to improve our infrastructure, transportation and energy will help make us feel safer. It will also help us reinforce our plan of growth and equity as we grow as a city."
Some areas of focus of the report, Walsh said, include East Boston Greenway and Charlestown, both of which are in the high-risk flooding zones.
"We need to understand what is climate change and how the effects of climate change actually apply to our city, not just today but the next 10, 20, 30, 40 years," Walsh said at the conference.
Speakers at the conference included representatives from the Massachusetts Executive Office of Energy and Environmental Affairs, the Boston Green Ribbon Commission and members of the City of Boston Cabinet.
Austin Blackmon, the chief of environment, energy and open space, said the city's partners have been contributing to the initiative, and explained the report's updated projections, such as chronic stormy weather, severe flood exposure, urban heat islands and sea level rise.
Supported with data found in the report, Blackmon pointed out that in the past, Boston had 11 days of 90-degree weather, while this year's summer witnessed 22. Blackmon said the report projected about 3 feet of sea level rise by the end of the decade.
"The good news is that we have the technology in place," Blackmon said at the beginning of the conference. "Some of the things we should do, we have been doing them for decades and need to continue doing it."
Blackmon emphasized the importance of developing climate change strategies that have multiple long-term benefits.
"We experienced the snowiest and coldest winter in 2015, followed by the driest and hottest summer in 2016 with drought. This could be happening on a regular basis," Blackmon said. "Even if that is not enough to convince you, we have to think about those who will certainly be impacted — some of our children. We have responsibility to them as our previous generations have given us so many opportunities. We owe them the same courtesy."  
At the end of the press conference, Walsh said the incoming federal administration should be equipped to deal with potential natural disasters.
"What is going to happen — unfortunately — is that within the next couple weeks, couple months or couple years, we are going to have a natural disaster somewhere in America," Walsh said. "When that happens, the federal government has to deal with it. They will realize that this is a real issue … There are still many people that work in the office who have worked on this issue for years. It is not going to stop them."
Several Boston residents said they hope for improvements in the city's infrastructure and sustainability efforts.
Kensi Ying, 29, of Kenmore, said she hopes to see improvements in education about climate change.
"Not everybody is really aware of it," she said. "I would say even from elementary school, you should start teaching kids about climate change."
Robert Gomes, 27, of Dorchester, said the city has also improved on infrastructure.
"I have seen there are more and more new buildings in Boston built with environmentally friendly material," he said.
Karen Ramirez, 40, of Jamaica Plain, said the city needs to be "greener" in transportation and prepare policy frontiers under the incoming federal administration.
"Transportation-wise, your trains and your buses — not that they are bad, but they could be better," she said. "We have some vehicles that could be more air-friendly."