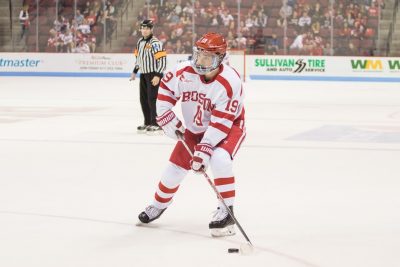 Fresh off arguably their best game of the season, the No. 6 Boston University men's hockey team will take the ice once more before an extended break.
The Terriers (9-5-2, 4-2-2 Hockey East) will look to reach double-digit wins before the end of the year when they host Yale University at Agganis Arena on Tuesday. BU will look to break a 31-31-3 series tie with the Bulldogs (4-5-2) after Yale won 3-2 last season.
BU head coach David Quinn's squad enters Tuesday's contest coming off a weekend split with No. 11 University of Vermont at Gutterson Fieldhouse. The Terriers fell 4-2 on Friday after being outscored 2-0 in the third period, but bounced back spectacularly on Saturday with a 4-0 victory.
"We played with an alertness, we played with a pace and we played with a determination that we're going to have to play with night in and night out if we're going to have success and have the season we think we're capable of having," Quinn said. "We didn't have that on Friday night."
Saturday's win is even more impressive considering a few Terriers didn't suit up. Struggling freshman forward Kieffer Bellows got the night off, while freshman defenseman Dante Fabbro left earlier that day to report to World Junior Championship training camp for Team Canada.
Finally, junior defenseman John MacLeod was ruled out with an injury. That led to junior defenseman Brien Diffley and sophomore defenseman Shane Switzer starting on Saturday, helping to keep the Catamounts (10-4-2, 5-3-1 Hockey East) off the scoreboard.
Diffley and Switzer played a combined 34 games last season, but have appeared in just seven contests so far this year. However, the blue-liners will get more playing time with seven players invited to WJC training camps. Quinn hopes that the experienced pair will continue to fill in and contribute to the next few games.
"Those guys are good players, and they showed it in a very hostile environment against a very good team," Quinn said. "Obviously with Fabbro, with Team Canada's World Junior Camp, and [MacLeod] hurt, those two guys get an opportunity and I wasn't surprised how they played. I feel very comfortable playing them on a regular shift on a nightly basis. We're fortunate we got depth, and our depth helped us a win a hockey game on Saturday."
Despite not having some key players available last weekend, the Terriers got a big boost with the return of freshman forward Clayton Keller. He assisted a power-play goal by freshman forward Patrick Harper on Friday before scoring his sixth goal of the season on another power play Saturday.
Keller's stellar return helped rejuvenate the BU power play, which went 3-for-8 on the weekend. Quinn pointed out that all 10 members of the two units stepped up against Vermont.
"Clayton without question has a huge part of it, but all the other nine guys really elevated their game," Quinn said. "It was nice to have a power play where you feel like you're going to score."
Looking forward to Tuesday's matchup, the Bulldogs are a far different team than the one that defeated Quinnipiac University to win the 2013 National Championship.
However, there are still plenty of areas that Yale head coach Keith Allain's team excels in. The Bulldogs are led by senior forward John Hayden, who's seven power-play goals lead the nation. He spearheads a power play unit that is ranked 14th overall, while Yale's penalty kill unit is 15th best in the country.
It's clear that special teams are where Yale excels, and while Quinn hopes to neutralize Hayden, he doesn't want his penalty kill unit (third-best in the nation) to do anything different.
"Obviously, you want to try and take away a team's strength on their power play," Quinn said. "We try to do that, but we also have a way we want to kill. If we execute what we're trying to do systematically on the P.K. and we're alert and we're quick and we're willing to block shots and clear pucks, I don't care who has who, we're going to have a successful power play because we have a great goalie."
Despite Yale's underwhelming record, Quinn stressed that there are no easy games in college hockey.
"They're well-coached, they play at a great pace, they make you earn every inch of ice," Quinn said. "It's a thing that people don't realize in college hockey. This is a game of will. You might be more talented than I am, but if you're 98 percent all in for the night, I'm going to win my battles, I'm going to outplay you. There's not much margin for error at our level, I don't care how talented you are. We need everybody pulling in the right direction tomorrow night."