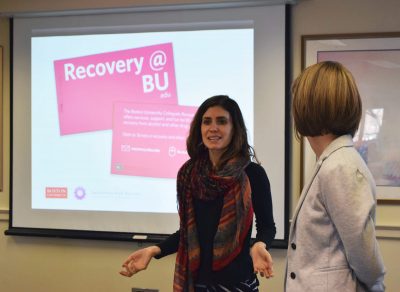 More than 30 Boston University community members gathered in the George Sherman Union Friday afternoon to discuss the role of campus activities and programming in preventing dangerous drinking on campus.
Katharine Mooney, the director of Wellness and Prevention Services at BU, said before the meeting that the discussion aimed at informing people about BU's efforts to prevent dangerous drinking and at brainstorming ideas on what more could be done.
"We do quite a bit, but there's always room for improvement," Mooney said. "I think one of the main goals of ours is to just talk about these issues with other folks on campus and get everybody thinking about how we can work together to make our campus environment healthier."
Mooney said the university has implemented a few key policies that have been proven to decrease dangerous drinking on campuses, such as offering alcohol-free social options, creating a health promoting environment, limiting the promotion and availability of alcohol and enforcing policies and laws regarding excessive drinking.
"Campus programming plays a really important role in preventing dangerous drinking on campus," Mooney said. "What we know is that most students drink responsibly and many BU students don't drink at all, but there are certain times of the year when we see a certain uptick in alcohol transports, and that's the kind of thing we want to prevent."
During the discussion, Mooney highlighted a few times of the year when there are spikes in dangerous drinking, namely the first few weeks of each semester, Halloween and Marathon Monday.
Mooney then asked attendees to brainstorm potential campus programming that could decrease dangerous drinking on Marathon Monday this spring — ideas ranging from pancake breakfasts to supervised block parties.
Katie Sours, a School of Public Health alumna and a past intern in the Center for Wellness and Prevention, spoke about another factor that aggravates dangerous drinking — being a freshman.
"First-year students are disproportionately more likely to be transported due to alcohol," Sours said. "In a typical week, about half our students at BU are choosing not to drink, but freshmen don't always realize that."
Mooney said new students often have a misconception of college life, which leads to dangerous drinking.
"I think there can be a lot of misperceptions about what's going on, so being armed with that data about what's really happening can be really important and valuable," Mooney said.
Students and staff from departments across the university said they came to the meeting to stay informed about how to keep students safe.
Abigail Herbst, a junior in the College of Arts and Sciences, said as a student studying public health, she is especially interested in the culture of drinking on college campuses.
"The thing that stood out to me the most was the difference between actual drug use and perceived drug use," Herbst said. "It has a ton to do with peer pressure, so if you perceive that all your friends are drinking, that puts more pressure on you to drink."
Sean Sevey, an undergraduate career advisor in the Questrom School of Business, said the discussion provided departments with a lot of good information that they can use in the future.
"Knowing some hard statistics and trends of students were helpful and can inform the discussions I have with students, which is great," Sevey said. "Drinking is obviously something that's going to be happening on campus, so any way that I can support students to do that safely is important."
Mia Trentadue, a senior in the Sargent College of Health and Rehabilitation Sciences, said the discussion came together well.
"I think the turnout was great, seeing that other departments are engaged in this material, and really do want to see how they can reach out to students in different ways was really interesting for us," Trentadue said. "We were really happy with the ideas people had and really proud that there was such a commitment to thinking about how we can engage students in different ways."