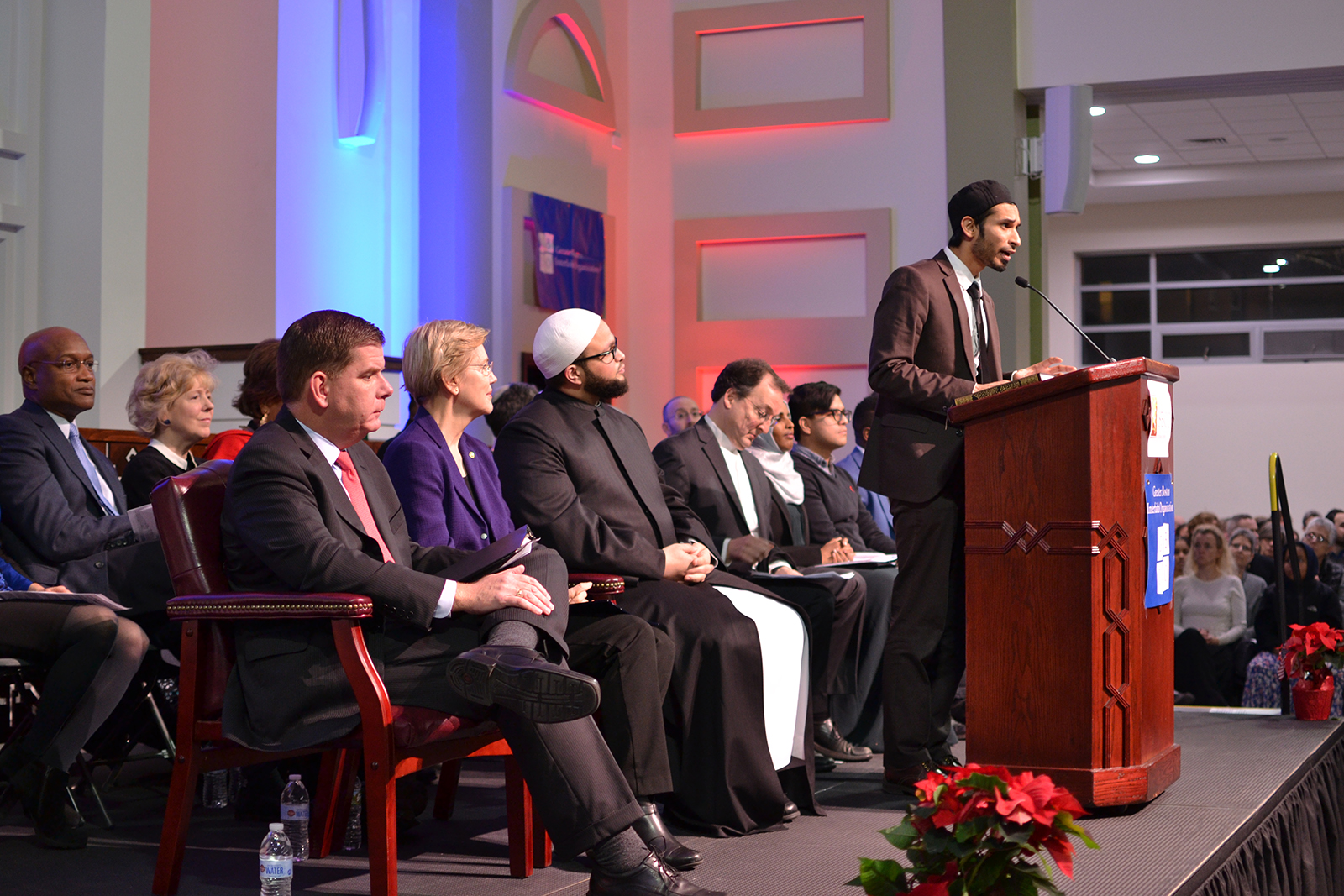 Approximately 2,600 people gathered at the Islamic Society of Boston Cultural Center in Roxbury Sunday evening for a special service called, "Out of Many, One: An Interfaith Call for Dignity and Diligence."
The service was coordinated by the Greater Boston Interfaith Organization, with Boston Mayor Martin Walsh and Massachusetts Sen. Elizabeth Warren in attendance. The speakers emphasized the importance of remaining united through adversity, rather than being driven apart by it.
Boston interfaith leaders delivered a joint statement to Boston leaders, in response to the ongoing political transition. The statement was one based on "deep listening and vigilance."
"The 2016 national elections exposed deep and painful divisions in our country," the leaders said in their statement. "In this moment of transition and uncertainty, we recommit ourselves to looking across lines of difference; economic, racial, ethnic, religious, gender, and otherwise, to heal the wounds … [for] moving forward for all people of this great nation."
Walsh responded to the call to action, saying, "We accept it, we endorse it and we're going to adopt it as our own."
Walsh encouraged Boston citizens to work together to create positive changes.
"I truly believe diversity is a strength for a city, for a community, for a nation," Walsh said. "We are a city of compassion, welcoming diverse locals. This city welcomed my immigrant mother and father. We won't be complacent; we have to work to do in our own community."
Walsh said all cities across the nation need to stand up in unity, and advised other elected officials to make an effort to visit a mosque within their own community.
"Now, more than ever, cities need to stand up to claim these values as American values, and to show how to put them into action," Walsh said. "That means bringing communities together the way we have done here tonight. If every elected official in America visited a mosque … we would have a better conversation about diversity in our country."
Warren, who also spoke at the service, highlighted the need to build bridges within communities in order to achieve mutual understanding.
"Now is a time where we must be willing to say, loud and clear, there is no room for bigotry anywhere in the United States," Warren said. "An attack on one of us is an attack on all of us, and we will fight back against discrimination whenever and wherever it occurs."
Warren said individuals need to come together to lift up one another, and that all Americans — despite their differences — deserve respect.
"Regardless of our faith, regardless of our differences, in every single one of us there is God, there is something holy … Every single one of us is valuable," Warren said. "It is not enough to recognize, we must act. We share our faiths with one another, we celebrate our differences and we celebrate our shared values."
Rev. Burns Stanfield, president of GBIO and a pastor of the Fourth Presbyterian Church, recalled the Founding Fathers' initial "inspiration and aspiration" to bring together all members of the nation in solidarity.
"We are also from different countries of origin," Stanfield said. "We are also from different cultures. We are also from different languages, different creeds, different religions. Out of many, we may be one. Tonight, we are here to affirm that vision."
Stanfield urged attendees to remain committed to standing against hate and bigotry by building relationships with those of different backgrounds.
"We know the spirit of bigotry is real," Stanfield said. "We build our capacity to act by building one relationship at a time."
Rev. Dr. Ray Hammond, founder and pastor of Bethel African Methodist Episcopal Church, encouraged the audience to attempt to understand all walks of life, in his speech.
"We have to reach out to people who voted and think differently because when all is said and done, we're still here in America together," Hammond said to The Daily Free Press after the service. "And then, when necessary, we have to be willing to resist any … evidence of policies that will set us back as a nation."
A few attendees at the service said they valued the opportunity to gather with people of different faiths.
Mike Boudo, 52, of Salem, said he enjoyed hearing political leaders speak openly about religion.
"Anyone that's elected, especially in the Northeast, should talk about their faiths," he said. "It shouldn't be something that we hide."
Hussein Mohamed, 25, of Roxbury, who said he is originally from Somalia, said the service reaffirmed the importance of equality.
"I got to meet a lot of people of different faiths," he said. "All people are the same — none are different, none are better than others. We are just equal people. We are human beings."