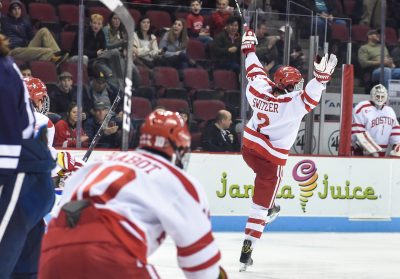 What better way for the No. 6 Boston University men's hockey team to wrap up the final game before the Holidays than with a surprise gift?
With freshmen defenseman Dante Fabbro at Canada's training camp for the World Junior Championships, and junior blueliner John MacLeod nursing an injury, sophomore defenseman Shane Switzer stepped in and shined for the Terriers (10-5-2, 4-2-2 HE), scoring two goals and doing all the right things on defense en route to a 5-2 victory over Yale University on Tuesday.
"[He's a] great kid," BU head coach David Quinn said of the Bloomfield Hills, Michigan native. "He works hard, he is a very good hockey player."
The 6-foot-2, 200-pound D-man came into his ninth collegiate game the least likely Terrier to score twice versus the Bulldogs (4-5-2), but that's exactly what he did. With less than a minute to go in the first period, Switzer crashed the net after a pass from sophomore forward Jakob Forsbacka Karlsson to beat Yale netminder Sam Tucker hard and low. It was his first goal in a Terrier uniform.
"That was a great feed by Jakob," Switzer said. "I wasn't sure he was going to get it to me and I was just able to put it in."
Then, just three minutes into the second period, Switzer's wrister from the right circle sailed over Tucker's shoulder and into the net to put BU up 4-0. He is the first Terrier defenseman to score twice in a game this season.
"It felt really good," Switzer said. "Just being out there is good, just to contribute on the scoreboard is a bonus."
His goals will be what stands out, but his defensive effort was just as impressive. Paired up with junior blueliner Brandon Hickey, Switzer was consistently had good position and was quick with his stick to disrupt a Yale offense that averages 3.00 goals per game. He would finish with a plus/minus rating of +2. 
All of a sudden, Quinn now has to decide who his sixth defenseman will be once everyone is back and healthy. MacLeod has had some good moments paired with senior Doyle Somerby, but he's been battling with injuries throughout the season, and there's no timetable for his return. Junior D-man Brien Diffley has filled in as well, but his play hasn't really stood out.
After Switzer's stellar game, Quinn said that he and his staff often have to make difficult decisions due to the depth of this team, and the decision pertaining to which defensemen play each night is no different.
"We think we have guys that can play that maybe haven't played a lot of hockey," Quinn said. "We've always liked Shane as a player, we think we got depth on the blue line, and I think we proved it tonight."
For most of his collegiate career, Switzer has been considered by many to be a good college defenseman who would play on a regular basis in other programs. After tonight's memorable performance, perhaps the narrative on him will change.
Switzer, however, is quick to point out that he embraces his current role on the team.
"I'm just here to play my part," Switzer said. "They tell me when to play and I play, that's all I have to do."