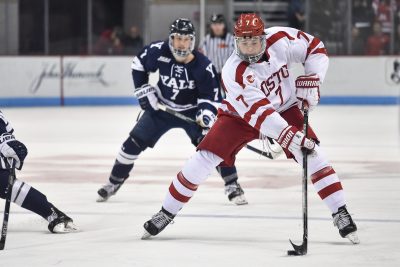 A spot in the 2017 World Junior Championships is hardly a guarantee for Charlie McAvoy, but he's certainly excited for what could unfold over the impending break from classes at Boston University.
"It would mean the world to me [to be picked]," McAvoy, one of eight Terriers called into preliminary camps for youth hockey's biggest stage, said. "I'm sure to everybody there's a lot of pride in representing your country. If I'm lucky enough to do it again, I'll be extremely happy."
The sophomore defenseman would have every reason to feel that way, too, as he's a favorite to feature for Team USA throughout the tournament, which runs from Dec. 26 to Jan. 5 in the Canadian cities of Montreal and Toronto. And, if all goes to plan, he'll be joined by several of his fellow Terriers.
Freshman goaltender Jake Oettinger, freshman defenseman Chad Krys, freshman forwards Patrick Harper and Kieffer Bellows and sophomore forward Jordan Greenway were all called into the American's Buffalo, New York-based camp. Meanwhile, freshman defenseman Dante Fabbro is already participating in Team Canada's camp and drawing rave reviews.
Considering nearly one third of David Quinn's squad could play in the tournament, the fourth-year head coach is proud of BU's work on the recruiting trail.
"It speaks volumes to the job that Albie [O'Connell] and Scotty Young and Steve Greeley and Buddy Powers have done over the last few years," Quinn said last week to The Daily Free Press. "We've been very fortunate to get high-end players, and those guys have played well this year. They deserve the opportunity. Now it's up to them to make the most of it."
One player who could shine at World Juniors is Keller, who holds the U.S. National Team Development Program record for points with 189 on 71 goals and 118 assists. He was called into last year's preliminary camp, which was held at Agganis Arena, alongside Bellows, Krys and McAvoy.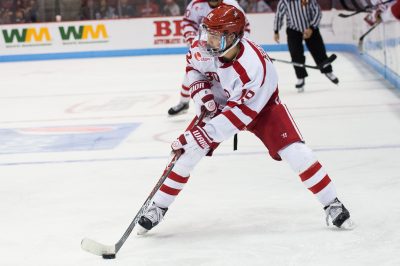 The latter two made the final cut for the 2016 championships in Finland, and Keller is anxious to prove his worth this go around.
"I'm just so excited to be able to represent my country again," Keller said. "The NTDP was probably two of the best years of my life, just being with those guys and really developing and seeing ourselves grow as kids and on the ice. I'm just really excited and can't wait for the opportunity."
Speaking of opportunity, McAvoy hailed skating in last year's tournament, noting the experience of playing alongside world-class players in an intense atmosphere was massive. Similarly, Keller spoke at length about how 2016's camp offered him the chance to learn from the likes of Auston Matthews and Matthew Tkachuk, currently of the Toronto Maple Leafs and Calgary Flames, respectively.
Reflections aside, the duo beamed at BU's strong presence in the U.S. and Canadian camps.
"It just highlights the recruiting and the kind of player we like and go after: the top-skilled younger guys," McAvoy said. "We obviously build a younger team, and I think that shows we're not shy to be younger instead of older."
One potential conflict is BU's game against Union College on Jan. 5, the final date of World Juniors. That's something the coaching staff plans on dealing with in the coming weeks, though. For now, it's World Juniors time.
"It's a tournament that you love to play in with the adrenaline and the excitement," Quinn said. "The last thing you want is a break when you have the opportunity to play in that tournament. They'll be excited."